overview
Key Learning Outcomes
Key principles and targets in negotiating freight contract rates & service levels
Pricing drivers in the ocean freight market place
Global trade & regulatory outlooks and impacts on shipping capacity & demand
Freight rate movement forecasts
Advanced sourcing & contracting strategies
Surcharges, cost mitigation and freight audit strategies
Basic tenets of negotiations from RFI/RFQ phase
Freight contracts' essential clauses and basic drafting
Management into the contracts – Risk/Reward balance and service levels
Contract disputes & resolution
Liability for freight and cargo insurance policy
Who Should Attend
Designed with technical and practical insights in shipping industry, this workshop is essential for any executives involved in the negotiation, management, transaction or dispute resolution relating to freight contracts:
Legal, Contract, Chartering, Business Development, Commercial, Procurement, Supply Chain & Logistics Managers
Shippers, exporters, importers
Freight forwarders, Freight brokers & NVOCCs
Charterers, Shipping Lines
Ship & port agencies
Trucking, warehousing providers
What Attendees Liked About Our Training Courses
"Trainer provided actual facts with clear-cut explanations in "plain English" and helped me interpret difficult concept. I'd have loved to have extra time on this course"
– Justin Felix, Operations Manager, DK Ship Chartering
"Course director is very experienced. The programme is informative, relevant to my job and will help me execute laytime exactly as per contract"
– Darwin Mark Bunag Operations Assistant, Mizzen Shipping Enterprise
"Interesting course and knowledgeable speaker"
– Larry Tay, Contracts Manager, Singapore LNG
"Expert trainer helped me acquired lots of useful information about shipping industry, deep and insightful details from presentation materials."
– Kornthip Watcharathamrongkul, Assistant Manager, Thai Oil Public Company Limited
Trainer
Markus Kraft
Associate Consultant, Drewry Shipping Consultants Ltd
Markus has over 20 years of experience in international freight forwarding, supply chain management and end-to-end customer solutions. His areas of expertise cover all aspects of commercial development and globally operating 3PL – from traditional sales to key account management, as well as supplier management, procurement for freight services and operations management. He's spent more than 14 years in Asia and is presently providing Maritime supply chain advisory services with Drewry, focused on freight cost and procurement analyses for ocean transportation.
Markus's international career with Exel (now DHL), Agility (China), Kuehne + Nagel, Leschaco and Leschaco (Singapore) offered him exposure to various verticals, ranging from Trade Lane Development, Business Development to Product Development & Solutions Design, Warehouse and Vendor Management across countries and industries as well as Business Productivity Modelling & Change Management. Some of Markus's past and concurrent projects include:
Developed multiple freight solution and business opportunities for forest products, F&B, industrial, FMCD & retail for European and Singapore market
Negotiated the acquisition of a regional sea freight tender and the inbound freight and customs brokerage for Vietnam, Singapore and Malaysia
Procurement, cost negotiation and process optimization projects in Middle East/Asia
Handled niche transportation opportunities including a 250-ton break bulk on-hook/hook terms and 120 project cargo including delivery service, customs, craning & ramp modification and VMI contract logistics for Changi Airport office
Introduced a flexitank solutions to tank container operation in Singapore, Korea, Malaysia and Thailand
Markus is a Council Member Consultant for Gerson Lehman Group (GLG) and a Registered Lecturer for STEi Institute where he delivers courses on Supply chain management, warehouse & distribution, purchasing and strategic management
Digital Badge
Upon completion of this training course, participants will earn a digital badge.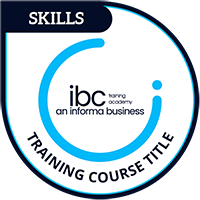 Earners of Freight Contract Negotiation Certificates have acquired advanced-level understanding of rate benchmarking & forecasting and contracting strategies in the ocean freight market place. They have examined pricing drivers, freight market movements across forms of freight procurement; scrutinised various sourcing options including service levels, ports of choice considerations, surcharges, cost mitigation and insurance policies. They are also skilled in managing the legal & commercial terms throughout the RFQ and execution of contracts.
Skills:
ocean freight, sea freight, freight cost benchmarking, pricing drivers, spot market freight rate, rate movements, rate forecast, sourcing strategies, contracting choices, surcharges, cost mitigation, fuel pricing, bunker adjusted factor, demurrage, bills of lading, business management, dispute resolution, cargo insurance, freight auditing, cost reduction, RFi, RFQ, tender preparation.
Eligibility:
Attend and participate in the 2 full days of training course duration, led by the designated training expert
Available to:
Seminar attendees
Agenda
International trade terms, shipping documents and freight market outlook
Freight negotiations in the complex shipping environment
INCOTERMS 2010
Bills of lading, Carrier documents/shipper documents
Import/Export documentation and shipping procedures
High level market development – supply, demand and carriers' earning

Implications of the US tariffs
Carriers' orderbooks and trades outlook
IMO 2020 cost impacts and calculation
Contract rate analyses for traders & manufacturers across trade routes
Ocean freight cost benchmarking
Pricing Drivers in the Ocean freight market place
Spot market freight rate movements and forecast
Dry container freight rate movements
Reefer contract freight rate
Forwarder market rate
Ocean freight procurement needs for small/medium shippers
Sourcing Strategies and Contracting Choices
Long-term vs short-term vs index-linked contracts
Cost components and surcharge analyses
Service levels considerations
Ports of choice: congestion, inland movement vs transshipping costs
Surcharges and cost mitigation
Terminology (gate-in gate-out, INCOTERMS)
Fuel pricing and bunker adjusted factor (BAF) clauses negotiation
Core charges and accessorial charges (Freight, FOB, DDU)
Detention and Demurrage under B/L
Other surcharges
RFI/RFQ from the Shippers' and Carriers' Perspectives
Carriers' Services and expectations
Tender preparation – considerations for bidders and shippers
Guidelines to meet deadlines for delivery
Basic tenets of negotiations
Fixture agreement and key considerations
Exercise: Proper framing of RFQ process
Legal & commercial considerations in freight contracts
Enablement of change for future requirements
Interpretation and Implications by law, customs
Force majeure clauses
Group Exercise: Contract drafting and legal pitfalls
Business management into the contract
Agreements ensuring risks/rewards balance between carriers and charterers
Contract management process
Measuring carriers' service levels
Penalties, bonuses
Freight payment terms
Exercise: Freight auditing and cost reduction analyses
Pre-audit, post-audit & reporting
Volume growth and renegotiation
Case Studies – Breaches, disputes and resolutions
Service levels disputes
Shipment loss & damage incidents
Compliance
Liability for freight, cargo insurance policy
International freight liability
Carriers' liability
IMO, IATA liability framework for multimodal transports
Transport Insurance
On-site & in-house training
Deliver this course how you want, where you want, when you want – and save up to 40%! 8+ employees seeking training on the same topic?
Talk to us about an on-site/in-house & customised solution.