Frequently Asked Questions (FAQ) of Digital Badge
What Are The Benefits Of Having A Digital Badge?
| | |
| --- | --- |
| View, download and print digital badge | |
| Display badge on your digital CV (LinkedIn) | |
| Sharing of badge on social media platforms (Twitter, Facebook, Xing) | |
| Connect multiple email addresses to your account | |
| View the value of your skills through connected job market data | |
| Search for other badges and credentials | |
How Does The Digital Badge Look?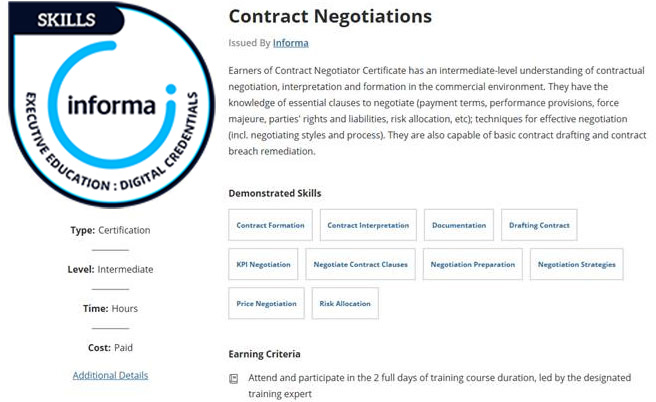 Sample of Digital Badge Issued on 15 June 2019
How Should I Claim My Badge?
Step 1:
7-14 working days upon the completion of your training course, you will receive an email from our 3rd party vendor, Acclaim with your badge details earned
Step 2:
Click accept, and you will be redirected to the Acclaim account Dashboard. First time users will be prompted to sign up an account with Acclaim first before you can access the badge.
Step 3:
View, save and share your badge earned! Remember to keep your Acclaim login details in a good place!