Introduction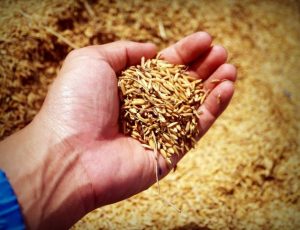 The past decades saw a remarkable growth of the organic food market. Its value on the world market is expected to soar to $262.85 billion by 2022. Consumers now demand more transparency on food safety and on their food choices, wanting the story behind the food they buy.
Organic and SRP rice require tedious attention. Source areas should not be contaminated; this limits our supply areas to remote locations not using chemical fertilizers. At low yield of 1-2 ton per hectare, farmers may be tempted to use commercial fertilizers than natural production. Strict Internal Control System would ensure compliance to standards. Incentives are needed on fair price above current cost and a premium over price.
Issues on The Organic Food Industry in Cambodia
Historically, a significant portion of the Cambodian paddy rice crop was purchased, then milled by Thai and Vietnam companies. Vietnam traders still influence the price of paddy in southern Cambodia. Small Cambodian mills still processed almost 50 percent of the farm paddy output; these are constrained by outdate milling technology and low working capital leading to losses of rice yield and quality.  There are few good storage facilities in Cambodia. There is a lack of a domestic testing laboratory and we exporters use laboratories outside of the country, thus more expensive and time consuming.
Logistical challenges results to higher port, transport and energy costs. We lack heavy barge and railway transport. All bagged rice is trucked to Phnom Penh, loaded into containers and then shipped out via container ports. We lack a deep-water port which preclude us from competing in the 5-million-ton rice bulk trade in Asia and West Africa. Our irrigation infrastructure is also undeveloped, covering merely 22 percent of areas under paddy rice cultivation, thus, exacerbating the risk of flood and drought as the climate changes.
There were depressed rice prices globally the past five years. This resulted from the glut of state-subsidized Thai rice stocks up to 2016; rice-importing countries, like Nigeria, imposing self-sustainability measures; Myanmar entering the market; and, weak intra-trade for rice exports within ASEAN due to unaddressed shipping rights, etc.  World rice prices remained low since 2013. Lately, there is also increasing competition on high-value rice exports, as Vietnam rice policy shifted towards high quality (aromatic) rice along with Myanmar's entry.
Cambodian rice exporters confront the prospect of EU's removal of our competitive advantage under the Everything But Arms policy. There is a possible Safeguard Clause on our rice exports arising from the European Commission inspection on Italy rice miller's complaint.
Challenges and Needs
Five key challenges need to be addressed within the Cambodian SME rice milling and export sector:
Warehouse and Mill Management and Software Development
There are weak systems in place that integrates all aspects from production-to-export. There is limited use and inadequacy of computer programs and inadequate operators training.
Product Specifications
There were improved product specifications after organic and SRP standards were adopted. However, this needs to be strictly monitored at the production level and processor level. There are increasing standards and stricter audit on product quality, environmental health safety, and labor and fair-trade practices. Amru continue to apply to these standards at buyer country and the regional level and restructuring our operations to be compliant.
Rice Markets and Export Promotion
Cambodian exporters optimized EU's EBA zero-tariff policy, but this will ultimately expire. We need to be competitive to maintain the EU market and seek to negotiate export deals with China, the Latin American and the Pan-Pacific market.
Clean Technologies
We are slow to shift practices for waste management and energy efficiency, such as rice hull gasification, organic fertilizer and the use of efficient equipment.
Finance and Investment
Currently, there remain no strong Bank-and-Business ventures for financing as a risk sharing scheme. There is also a lack of financing for stock procurement and for long-term investment. A government-backed no risk share facility (RSF) is needed.
New Investment Trends in The Industry
Cambodia has a rice surplus and areas untapped for diverse food crops for export. Foreign companies already entered the agribusiness industry. Top Asian companies are flaunting weight in rice production for exports and encroaching into the organic food industry. It will be difficult to compete with them—with their scale of investment and available capital.
Conclusion
Any business key step is to establish its product in the market. But after initial acceptance, scaling-up is demanding. Without capitalization, the business folds-up. Impact Investment is an important to help SME scale-up their operations. The current investment climate tends to favor business with high ROI but low sustainability. We need to advocate among the global business community for an "Ethical-Business Investment Portfolio" through combining global capital and expertise with local producers.
Author:
Song Saran
CEO
Amru Rice Company Ltd.
www.linkedin.com/in/saran-song-162842125