overview
Key Learning Outcomes
Regulation and guidelines applicable to LNG transfers
LNG storage, loading and handling systems
LNG transfer between shore and vessels, ships to ships, ships to platforms
Terminal upgrade for vessels' reloading
Custody transfer measurement and equipment
Pre-planning, LNG transfer compatibility studies and risk assessment considerations
Mooring operations, maneuvering and risks
Cargo conditioning, reliquefaction & boil-off control
Case studies: STS LNG transfer, LNG Spill response during cargo operations
 Who Should Attend
Ship Owners and Managers
Offshore Vessel, FSRU & FPSO Owners and Operators
Oil & Gas Majors, NOCs and Independents
Ship Superintendents and Safety Officers
Ship Officers and Crews
Master, Chief Officers, Chief Engineers, Project Manager, Superintendents
Process & Technology Design, R&D Manager
Loading and Mooring Masters
Project managers
STS Service Providers
Liquid Cargo and Bunker Surveyors
Ports and Terminal Operators
P&I Inspectors and Executives
What Delegates Liked About Our Maritime Courses
"Trainer is very experienced in the field and capable of explaining knowledge a non-LNG person like me. Very good clarification of LNG cargo management and custody transfer measurement"
– Claudial Ho, Manager (Gas Commercial), Sembcorp Gas Pte Ltd
"Well prepared materials with visuals & videos illustrate effectively technical aspects and LNG-related incidents"
– Zakia Lee, LNG Cargo Operator, Pavilion Energy Pte Ltd
"Good panel of speakers. It's a useful course for us to confidently proceed with our LNG projects"
– Marcus Lin, Chartering Manager, U-Ming Marine
"Very informative course, helpful preparation of especially HSSE on LNG Bunkering"
– Mike Kong, Assistant Tanker Manager, Inchcape Shipping Singapore
Trainer

Neil Macnab – Class 1 Master Mariner COC (Unlimited)
Training Manager
GTT Training
Neil has been involved with the Maritime and Shipping industry for over 34 years where his foundation was built with Shell from Cadetship to Master.
With 23 years at sea, he completed numerous STS transfers for Crude Oil on VLCCs in the Gulf of Mexico and he performed weekly STS operations from 30,000 tons Product Carriers to small coasters in the Gulf of Thailand.
He was deeply engaged on trade in the Far East, Australia and Japan when he became Master on LNG carriers.
More recently Neil has carried out training and attended a number of LNG STS operations for Ship Management Companies in South America.
Aside from Shell, he has also worked for 12 years in shore side roles for global maritime companies such as K Line Shipping UK Limited, MOL LNG Transport Europe Ltd and BG Global LNG Shipping, where he has held HSSE Manager and operations roles.
Neil also has experience in accident and incident investigation and expert witness roles in numerous cases while working for marine consultancies, including collisions, groundings, unsafe ports, cargo loss and damage claims.
He has been a Speaker in various industry seminars and conferences for the Oil, Gas and Off-shore Renewables industry as well as organising in-house conferences for Ship Managers.
Some of his roster of clients includes Maritime Port Authority of Singapore, British Wind Energy Association (UK), MOL Commercial (London), CNOOC, PSA Marine Pte Ltd, Pavilion Gas, V-Ships Greece. BP Shipping (Singapore), Marshall Islands Flag Administration, Conrad LNG and the USCG.
Digital Badge
Upon completion of this training course, participants will earn a digital badge.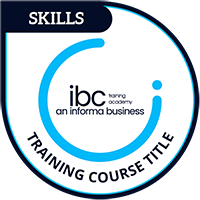 Earners of the LNG Transfer badge have acquired overaching understanding of the operational, technical and contingency planning required for various methods of LNG operations. They have reviewed various LNG storage, loading & handling systems; how transfers take place betwee vessels, shore, trucks and other platforms; how terminal upgrade is handled for vessels' reloading; cargo conditioning, and risk prevention
Skills:
lng, transfer, sts, ship/shore, truck-to-ship, cargo conditioning, reliquefaction, boil-off control, lng storage, emergency response, contingency planning, custody transfer, tanker management, terminal upgrade, offshore, simops, compataibility
Eligibility:
Attend and participate in the 2 full days of training course duration, led by the designated training expert
Available to:
Seminar attendees
Agenda
REGULATIONS AND GUIDELINES FOR LNG TRANSFER
Marpol section 8
STS guides
ISGOTT
OCIMF
SGMF (LNG Bunkering)
Tanker management self-assessment (TMSA)
International code safety of ships using gases as fuel (IGF)
SIGTTO
International ship & port security code
LNG STORAGE & LOADING SYSTEMS
Systems overview – operating principles
Terminal storage tank
LNG vessels' storage
LNG marine terminal

Loading/off-loading systems Cryogenic hoses
Cryogenic pumps
Marine Loading arms

Truck storage tank
LNG TRANSFER – SHIP/SHORE INTERFACE MANAGEMENT
Key parties involved
Ship/shore interface
Equipment & systems for transfer
LNG vessel operations
Terminal loading sequence
Pre-loading operations
LNG loading operations
Post-loading operations
Requirements for LNG supply facilities
Compatibility between supply facility and the ship
Simultaneous operations (SIMOPS)
OFFSHORE LNG TRANSFER
Floating transfer terminals / platforms

Jettyless transfer
Transfer arm

Tandem configurations
Design codes & parameters
CASE STUDY: ON-SHORE TERMINAL UPGRADE FOR VESSELS' RELOADING
Flow rate / refuelling speed
Pumps, valves

Gas vapor recovery & treatment
Gas compressor

Reliquefaction
SHIP-TO-SHIP LNG PROCEDURES AND GUIDELINES
Key parties involved
Pre-planning & high-level risk assessments
key loading & discharging procedures

common mooring methods
mooring underway
ship-to-jetty discharge

Mooring/un-mooring operations

Anchor/Mooring equipment
Underway vs anchored
Tandem mooring systems

Tugs and operations tenders
Delivery of tenders & equipment communications
TRUCK-TO-SHIP TRANSFER
Parties involved
Key steps in preparations
COMPATIBILITY STUDY
Parties involved and roles
Different compatibility studies
Transfer of personnel across vessels
CARGO CONDITIONING, RELIQUEFACTION & BOIL-OFF CONTROL
Tank pressure and temperature control
LNG Tanker insulation
Boil-off rates
BOG re-liquefaction systems
CASE STUDY – LNG STS FOR ESCO BAR FSRU
LNG SIMOPS AND CONSIDERATIONS
SIMOPS identification
Hazardous identification studies (HAZIDs), Hazard and operability studies (HAZOPS)
Quantitative risk assessments
Mitigation measures, ALARP
SIMOPS reporting
CUSTODY TRANSFER MEASUREMENT AND SYSTEMS
LNG custody transfer measurement systems

Gas analyses
Flow measurement
Pressure management
Density and viscosity
Temperature

Role of surveyor
System set ups
Certificate of loading
Types of custody transfer measurement systems and equipment
LNG custody transfer calculation
EMERGENCY RESPONSE AND CONTINGENCY PLANNING
Safety measure checklist
Removal of ignition sources in gas hazardous areas for different ship types
Emergency shutdown (ESD) systems

Connection, compatibility

Design codes and standards
Emergency decoupling system
Inspections and tests of transfer system
EMERGENCY RESPONSE CASE STUDY
LNG leakage
Vapour release
Fire risk
Risks during SIMOPS
INSURANCE
LNG Cargo insurance
Loss types
Cargo shortage claims
On-site & in-house training
Deliver this course how you want, where you want, when you want – and save up to 40%! 8+ employees seeking training on the same topic?
Talk to us about an on-site/in-house & customised solution.