overview
Key Learning Outcomes
What is the current status of the industry
What is likely to happen in the coming 5 years
Detailed understanding of supply/demand, network dynamics, consolidation, network design and optimisation
How to understand scale and pricing in liner shipping
What are the opportunities for differentiation
Why are we at the "end game" now for the mega carriers
Why will a number of niche carriers disappear in the coming years
Who Should Attend
Shippers and Cargo Owners
Shipping Lines and Carriers
Port & Terminal Operators
Forwarders
Container Leasing Companies
Ship Agents
Brokers
Anyone engaged in liner shipping
What past participants have said about our Maritime Courses:
"Very informative and real life examples provided"
– Kristal Thian, Shipping Ops Executive, Total Oil Asia-Pacific Pte Ltd
"I learnt new things/ knowledge"
– Sashi Indhiran, Legal Counsel, Sumitomo Chemical Asia Pte Ltd
"Real life cases are introduced, relevant to my work and to learn and gain better understanding, detailed & comprehensive notes"
– Quek Shu Yu, Chartering / Shipbroking – Dry Cargo, KZ Maritime Pte Ltd
"Highly knowledgeable speaker, relevant course for my job"
– Yosua Iskandar, BMS Coal Sales Pte Ltd
Trainer
Lars Jensen
CEO
SeaIntelligence Consulting
Lars Jensen has 17 years of experience from inside the shipping industry. This covers a combined period of 8 years as Director of driving and developing market intelligence & analysis for Maersk Line, Maersk Logistics and The Containership Company. Additionally Lars Jensen has for 2 years been CEO of the purely online container carrier Youship, as well as in charge of developing and implementing eCommerce strategy in Maersk Line.
Since 2011, Lars Jensen has acted as an independent strategic analyst, advisor and thought leader in the container shipping industry with customers including container lines, ports and terminals, universities as
well as innovative digital and IT companies in the shipping sector. Lars Jensen is CEO and Partner of SeaIntelligence Consulting, which is focused on providing expert assistance in strategic decision making, analysis, process improvement and revenue management in the shipping sector. Additionally, Lars Jensen is the co-founder of SeaIntel Maritime Analysis which was founded in 2011 and focused on providing impartial as well as actionable market intelligence for the container shipping industry. The information is often used by all market participants from carriers and shippers to ports and financial institutions.
Lars Jensen is also the CEO and founder of CyberKeel, focusing on cybersecurity in the maritime industry, providing cyber security assessments onshore and on vessels as well as assist in improving cyber security readiness. In 2016 Lars Jensen co-founded LinerGrid providing advanced tools to optimize network design for container carriers and also joined the board of the New York Shipping Exchange.
Prior to entering the shipping industry, Lars Jensen completed a Ph.D. on complex mathematical analysis in physics, as well as worked with technological innovation and modelling in the Oil&Gas industry.
Lars Jensen is a recognized thought leader on strategic developments in the liner shipping industry, and is often used as a speaker at international shipping conferences. Additionally, Lars has experience in designing and executing training courses for the Maersk Line Shipping Education as well as tailor-made training courses for individual companies and is acting as both teacher and coach at the maritime MBA at Copenhagen Business School. He is the cofounder of LinerGame which is focused on providing innovative training and teambuilding in the liner shipping industry.
He is also the author of the book "Culture Shock in Maersk Line" outlining the changes in the world's largest container line over the past 15 years and "Liner Shipping 2025" focusing on the changes to come in the industry and how carriers, terminals, shippers and forwards should navigate to be successful.
Digital Badge
Upon completion of this training course, participants will earn a digital badge.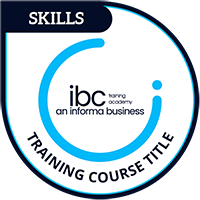 Earners of this badge have acquired high-level practical insights into strategising liner shipping business for maximal profitability and managing uncertainty in shipping. They have examined various contemporary issues including vessel size considerations, on-going capacity vs demand, IMO 2020, end-to-end logistics strategies, in conjunction with revising and reformulating best pricing models, revenue management, network economics & design optimisation strategies
Skills:
liner shipping, container shipping, roro carrier, impacts carrier, commoditisation, viabile niche strategies, network economics, network design, network optimisation, rate erosion, revenue management, capacity forecasting, demand forecasting, desulphurisation, vessel size, price wars
Eligibility:
Attend and participate in the 2 full days of training course duration, led by the designated training expert
Available to:
Seminar attendees
Agenda
SESSION 1:
What is liner shipping?
What are the core drivers in liner shipping?
What are the available data sources – and how credible are they?
SESSION 2:
How to understand supply
How to understand demand
The complexities arising from network dynamics when measuring market balance
Modelling past and present supply/demand balance
How to forecast supply and demand developments?
SESSION 3:
Freight rate developments
Can pricing be linked to supply/demand balance?
The impact of rate increases
Understanding rate erosion
The use of game theoretic models
The dynamics of price wars
SESSION 4:
Pricing and yield management
The impact of network pricing models
The problem of contract non-enforceability
The problem of balancing yield optimization and sales KPIs
SESSION 5:
The two types of scale advantage in liner shipping
The importance of vessel size
The importance of network size
SESSION 6:
Network design and optimization
How to calculate single liner string economics
How to calculate network economics
Balancing three core components: Network cost, flow of full containers, repositioning of empty containers
SESSION 7:
The strategic opportunities and choices for the carriers
Why do the carriers seemingly choose the same strategies?
Commoditization
Viable niche strategies
SESSION 8:
The impact carrier strategies and developments will have on terminals
The impact carrier strategies and developments will have on cargo owners
The impact carrier strategies and developments will have on forwarders
On-site & in-house training
Deliver this course how you want, where you want, when you want – and save up to 40%! 8+ employees seeking training on the same topic?
Talk to us about an on-site/in-house & customised solution.