overview
Complex Issues, Key Clauses, Risks, Claims, Dispute Resolution and more
Key Topics Covered
Learn about duty of care and performance obligations of Shipowners and Charterers
Understand common problems with the charterparty period
How to negotiate important clauses: what really matters
Key steps for managing claims and losses
How to manage risk that may lead to disputes
Understanding the various methods of resolving disputes
Explore critical elements including

Payment of hire and remedies for non-payment
Employment orders
Performance claims
Off-hire clauses
Laytime and demurrage
Deviation and liberty clauses
Common issues in charterparties – liens, dangerous goods, safe ports and paramount clauses
Who Should Attend
Participants will be expected to have some prior knowledge of charter
parties as the workshops have been designed to tackle this area at an
advanced level
Ship owners and managers
Charterers including Importers, Exporters and Traders
Shipbrokers
Port and ship agents
P&I personnel
Logistics and shipping professionals
Legal advisers, solicitors and barristers
Freight forwarders
Government bodies and representatives
What Past Delegates Liked About This Course
"Comprehensive coverage delivered in a concise manner. Lots of sharing and real life example from the trainer"
~ EDF Trading Singapore Pte Ltd
"Practical, clear and easy to follow. Hands-on practices were useful"
~ Charles Taylor Mutual Management
"The training is very informative. The instructor/trainer is extremely excellent and knowledgeable on the subject matter."
~ Subic Bay Metropolitan Authority
"Provides a clear concept on laytime with general examples"
~ Total Oil Asia Pacific Pte Ltd
Digital Badge
Upon completion of this training course, participants will earn a digital badge.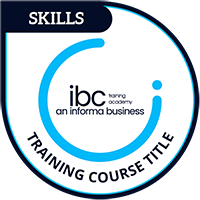 Earners of Charter Party Negotiations Certificate have acquired practical understanding of the complex issues associated with charterparty periods; how to best interpret and draft key clauses to minimise risks and claims. They are skilled in interpreting & using clauses pertaining to laytime & demurrage, payment, charterers' & owners' duties, vessel performance claims; and are capable of identifying & strategising dispute resolution approaches.
Skills:
charter party, drafting, clauses, laytime, demurrage, claims handling, payment of hire, off-hire clauses, deviation, performance, employment orders, paramount clauses, negotiations, voyage charterparty, time charterparty
Eligibility:
Attend and participate in the 2 full days of training course duration, led by the designated training expert
Available to:
Seminar attendees
Agenda
Day One
GENERAL INTRODUCTION
Formation of contracts under English law
Express and implied terms
Warranties & conditions & innominate/intermediate terms
The relationship between the contract of sale, the charter party and the bill of lading
The negotiation and formation of the charter party contract
Understanding the various methods of resolving disputes
PARAMOUNT CLAUSES
Why is this clause of paramount importance?
Which type of Paramount Clause can be used in a Bill of Lading?
Which type of Paramount Clause can be used in a charter party?
THE SHIPOWNERS' DUTIES
Hague-Visby Rules: Articles 3 and 4
To provide a seaworthy ship
Properly and carefully to care for the cargo
To proceed with reasonable dispatch
Cancellation clauses
THE CHARTERERS' DUTIES
Provide cargoes, correctly described
Pay freight/deadfreight/demurrage/damages for detention
Port nominations including safe port
Day Two
LAYTIME AND DEMURRAGE
When does laytime start to run?
What suspends laytime?
When does laytime stop?
Demurrage
Damages for detention
Reversible v Non-Reversible v Averageable
Worked examples of Dry and Wet laytime
TIME CHARTERS
Time charter duration and re-delivery
Overlap/underlap
Last Voyage Clauses
Illegitimate last voyages
Express and implied tolerances
"Without Guarantee"
Methods of payment of hire
Payment on time
Allowance for late payment: anti-technicality clause: latest law cases
Permitted deductions
REMEDIES FOR NON-PAYMENT OF HIRE
Withdrawal of ship from charterers' service
Suspension of services
VESSEL EMPLOYMENT ORDERS
Employment v navigation and safety, incl "HILL HARMONY"
Orders which a master must or may refuse
Who is responsible for cargo operations?
Stevedore damage issues
PERFORMANCE CLAIMS
When is a ship underperforming?
Practical issues
What is the difference between claiming damages and off-hire?
On-site & in-house training
Deliver this course how you want, where you want, when you want – and save up to 40%! 8+ employees seeking training on the same topic?
Talk to us about an on-site/in-house & customised solution.