As we approach the mid-year mark, capital markets across Asia Pacific have experienced an acceleration of investment volumes and a more accommodative financing environment.  Investor strategies continue to evolve, as emerging opportunities are starting to gain more traction and capital under management becomes more concentrated. Scalability remains a key focus, as does overcoming the challenges associated with sourcing product. Transaction activity suggests there has been a lot more focus around increasing deal sizes, targeting portfolios and undertaking indirect positions or M&A deals.
We have seen interest in the Alternative sectors starting to materialise into deal flow, as well as more investment going into asset classes driven by thematic trends (logistics / hospitality) or those offering downside risk protection (multifamily/debt).
Retail Opportunities
The difficulties in finding suitable investment opportunities remains a challenge across a number of asset classes; however, this has become less evident in some sectors – in particular retail markets. The diverging views around the outlook for the retail sector has bought more product into the market, and some investors are taking a more contrarian view of the sector's outlook. After six years of losing market share, retail volumes year-to date has lifted, however this is party due some very large deals in China and Hong Kong.
Ticket Size on the Rise
The challenges associated with accessing scale has also led to an increase in mega-deals (over USD 500 million) as well as more portfolio activity. Megadeals year-to-date have accounted for nearly 25% of transaction volumes, and we expect this trend to continue over the remainder of the year. Several large assets are making their way into the market, and there is strong liquidity for these assets, particularly in China, Singapore, Australia and Japan.
Emerging Living Strategies
The broad spectrum of living asset classes has also shifted into the spotlight more recently. Investors are taking a deeper look at areas like student housing, aged care, co-living and more broadly the multifamily sector. China, Australia and Korea all have fledgling multifamily markets; however, the key focus remains Japan, with a strong pipeline of product coming into the market this year. Further to this, investors are looking at various opportunities in some of the more distressed residential markets. Investors in India have been acquiring distressed residential sites or development companies at discounts, and we expect further developer consolidation over the next few years. In Australia, investors have been setting up recovery funds to acquire residual stock in developments with unsold apartments, at significant discounts to initial asking prices.
Capital Raising Strong but More Concentrated
Closed end private equity fund raising in Asia Pacific reached a 10-year high in 2018, falling just shy of USD 20 billion. Fund raising, however has become more concentrated within a smaller number of managers.
Dry power within APAC focussed funds is nearing USD 40 billion, so capital deployment will remain challenging in this competitive environment. Outside of the closed end funds, LP investors have also been focusing more on separate accounts and co-investment strategies as they seek more control and transparency over their investments.
Value Add Focus
A growing number of investors continue to focus on value-add strategies. Traditionally some of the more core investors have stepped up the risk curve to boost returns and find opportunities outside of the crowded core space. There has been a lot of focus on asset repositioning and work undertaken to increase lettable areas or improve asset efficiency / tenant appeal. There has also a growing trend around asset conversion, particularly within the industrial and hospitality / living sectors.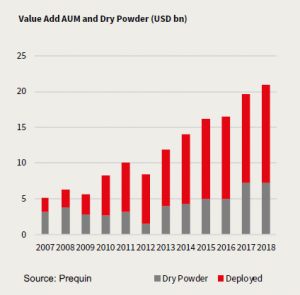 Logistics & Hospitality Focus
Investors have been pursuing other strategies that follow long-term thematic trends like the rise of Asian tourism and growth of e-commerce. The logistics and hospitality sectors have both seen growing investor interest off the back of these fundamentals. Often these strategies are also pan-regional, with capital backing best in class managers for each market. Particularly in the logistics space, the changing nature of the tenant base has led to more development strategies and built-to-suit product being rolled out.
Alternative Asset Classes
Alternative asset classes continue to draw a growing pool of interest, however sourcing opportunities and understanding the dynamics has been a challenge for many new investors. We have now seen transaction volumes start to lift across these sectors, with additional deal flow coming through on entity level or opco led transactions.
Investment holding periods
Various strategies are also driving investment holding periods lower. Assets over USD 200 million have seen their average hold period drop to 4.6 years (YTD 2019), down from an average of 5.8 years in the previous five-year period (2014-2018). This was a result of several factors, including more value-add strategies being deployed and a higher presence of private equity funds in the market. In addition, investors have been accessing scale via portfolios, whereby they take on the entire pool of assets initially, and then undertake sales of assets not fitting their investment criteria. This has also pushed average hold periods lower.
Visit JLL Website To Read The Full Report
---
Author:
Nicholas Wilson
Head of Research, Asia Pacific Capital Markets
Contact: Nicholas.wilson@ap.jll.com
About JLL: JLL (NYSE: JLL) is a leading professional services firm that specialises in real estate and investment management. Our vision is to reimagine the world of real estate, creating rewarding opportunities and amazing spaces where people can achieve their ambitions. In doing so, we will build a better tomorrow for our clients, our people and our communities. JLL is a Fortune 500 company with annual revenue of $16.3 billion, operations in over 80 countries and a global workforce of over 91,000 as of March 31, 2019. JLL is the brand name, and a registered trademark, of Jones Lang LaSalle Incorporated. For further information, visit www.jll.com.
---
Don't miss your chance to hear from Nicholas Wilson at the upcoming Commercial Real Estate Asia Conference happening from 10-12 September 2019. He will be a speaker in the session of Asia Pacific Commercial Real Estate Capital Markets Outlook 2020 on Day 2 of the Conference.
This conference is a part of Asia Property Week, co-located with the 2nd Annual PropTech Conference. Register now to meet 200+  industry thought leaders to explore new trends and business opportunities!