overview
Key Learning Outcome
Fundamental technology and operations of a smart port
Examine port's efficiency & capacity gap and develop technology strategy
Artificial intelligence (AI) implementation and applications
Implementing IOT & Big data infrastructure and the applications
Blockchain and appointment system in smart port process improvement
Smart port digital project road-mapping and implementation
Smart port automation technology for terminal operations and marine operations
Optimisation in intermodal supply chain
Digitalisation – Impacts on port users, agencies, customers and documentation
Cybersecurity measures for smart ports
Case Studies and Modelling include (but not limited to)
Robotics with Container Handling Equipment (CHE)
Predictive Asset Management
Automated Guided Vehicles (AGVs)
Autonomous drones
Automated Container Handling & Smart cranes
Position Detection System
Congestion Management
Berth Optimisation
Terminal Information Exchange
Who Should Attend
Port Authorities, Private Ports & Terminal Operators, Shippers, Shipping lines, cargo handling specialists, freight logistics and port service providers. It will be of particular interest, but not limited to
Operations
Engineering / Technical
Project Management
Infrastructure Development
Planning / Corporate Strategy
Transformation and Innovation Officers
Technology, IT and ICT
Digital Badge
Upon completion of this training course, participants will earn a digital badge.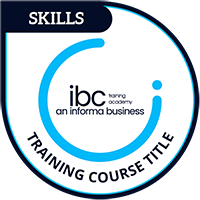 Earners of Smart Ports Certificate have acquired practical understanding of technological innovations and how to implement digital projects in Port & Terminal Operations. They examined the fundamentals behind ICT initiatives (e.g. AI, predictive asset management, autonomous drones, smart cranes, berth optimisation, congestion management, cybersecurity, automated guided vehicles) and exercised technology roadmap for their organisation (CAPEX, OPEX, planning and post-implementation ROI management)
Skills:
Smart ports, artificial intelligence, smart crane, automated guided vehicles, berth optimisation, digital, implementation, cyber security, blockchain, smart drones, predictive asset management.
Eligibility:
Attend and participate in the 2 full days of training course duration, led by the designated training expert
Available to:
Seminar attendees
Agenda
SMART PORT INTRODUCTION – DRIVERS AND CHALLENGES:
What is a Smart Port?
What drives port modernisation?
Supply chain

Integrated business model
Examining the capacity gap
Effects on cargo flow

Berth productivity
Logistics and trucking
On-dock rail / Intermodal
SMART PORT – FUNDAMENTAL TECHNOLOGY AND OPERATIONS
Cargo / Container flow
Is automation worth the investment?
What is your technology strategy?

Stage implementation Case Study: CBIS Experience

Blockchain and appointment system to aid Smart Port processes
IoT & Big Data infrastructure
SMART PORT INITIATIVE – PART I:
What is artificial intelligence?
Importance of AI in port operations
Automation vs AI
Current AI technology types
SMART PORT INITIATIVE – PART II:
Collaborative systems
Robotics with container handling equipment (CHE)
Predictive asset management
Autonomous drones as use of AI in Smart Ports
SMART PORT AUTOMATION TECHNOLOGY PART I – TERMINAL OPERATIONS AND AUTOMATION:
Terminal Operating System (TOS)
Terminal Optimisation analysis
Automated container handling
Position Detection System (PDS)
Exception handling implementation
Automated gate with TOS Optimisation
Port Processes – terminal information exchange
M&R with predictive asset management
AI with customer service
Review of latest automated CHE

Smart cranes
Automated guided vehicles (AGVs)
Unmanned straddle carriers
Unmanned utility carriers
Automatic stacking cranes (ASC)
SMART PORT AUTOMATION TECHNOLOGY PART II – MARINE OPERATIONS
Leveraging sensor – enabled IoT products
Depot management system (DMS)
Berth Optimisation
Congestion management
CASE STUDY: BIG DATA AND PREDICTIVE ANALYTICS IN PLANNING & SCHEDULING
CASE STUDY: DIGITALISATION OF PORT PROCESSES –AGENCY, CUSTOMS, TERMINAL INFORMATION EXCHANGE
SMART PORT DIGITAL PROJECT ROAD-MAPPING AND
IMPLEMENTATION:
Identify port's needs – location, role in trade, competitiveness
Project structure and methodology
Implementation strategies discussion
Post-implementation considerations
Identifying project hot spots
Case study: CBIS Experience
Port planning and scheduling
SMART PORT CYBERSECURITY:
Overview of cybersecurity
Assessing risks and vulnerabilities
Trends in cyberattacks and cybersecurity in shipping

Case study – Maersk Shipping Cyberattack (Pier400 Stody)
Case study – COSCO Shipping Cyberattack

IoT SDN (software Defined Network) for a more resilient
Cybersecurity setup
On-site & in-house training
Deliver this course how you want, where you want, when you want – and save up to 40%! 8+ employees seeking training on the same topic?
Talk to us about an on-site/in-house & customised solution.