overview
Key Learning Outcomes
Bunker market and bunker risk management; forward bunker contracts, hedging & trading
Sources of risks in shipping, and their hedging
Assess and compare risk management tools in Shipping (FFA vs CoA or Time Charter)
Principles and use of FFAs, its practicality and how they manage shipping risks
Practical examples on trading FFAs, modelling fleet's exposure, and exercises on calculating flat rate and TCE
Analyse the options shipowners and charterers have to hedge their positions
Contracts and risk management
Bunker hedging tools
Know your exposure and understand freight positions and their roles in trading decisions
 Who Should Attend
This course is essential for Finance, Chartering, Fixtures, Risk and Claims Managers from
Ship Owners and Managers
Charterers
Brokers
Hedge Funds, Banks and Commodity Traders
Digital Badge
Upon completion of this training course, participants will earn a digital badge.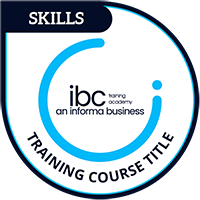 Earners of Shipping Risk Management Certificate have advanced-level understanding of legal, financial, contractual management in shipping and the competence to hedge against shipping risks. They have examined the various sources of risks (e.g Bunker rate, vessels supply & demand, freight market, interest rate); reviewed the freight markets (paper vs physical); compared across risk management tools in shipping (FFA, CoA, Time Charter); modelled fleet exposure and analysed their practicality.
Skills:
Shipping risk, FFA, Time charter, CoA, bunker hedging, fleet exposure, TCE, contract management, risk management, bunker derivatives, freight market, pricing and settlements, OTC.
Eligibility:
Attend and participate in the 2 full days of training course duration, led by the designated training expert
Available to:
Seminar attendees
Agenda
THE SHIPPING CONTRACTS AND RISKS
Contracts
Sources of risks
Fundamentals of freight markets
Supply and demand of vessels
Market cycles and trading environment
Shipping trend observations in major commodities traded
Freight rates updates
Factors affecting volatility
SHIPPING RISK MANAGEMENT
Sources of risks
Risk management and use of derivatives in shipping
Comparison of risks across shipping segments
Freight risk management tools available
Financial risk management in shipping
Interest rate risk
Financing examples and sources of interest rate risk
Instruments to manage risks
Hedging interest rate risk using forwards and futures
Currency swaps and swapations
Interest rate caps, floors and collars
Case studies
UNDERSTANDING SHIPPING NATURAL HEDGE
Analyse the options shipowners and charterers have to hedge their positions.
Shipowners' Traditional Strategies to Minimise Financial Risk
BUNKER RISK MANAGEMENT
Bunker market – how will it affect hedging
Fundamentals of bunker risk management in shipping
Bunker derivatives
Forward bunker contracts, hedging and trading
Options on bunker prices
Exercise
TIME CHARTER EQUIVALENT (TCE)
How to calculate?
Practical exercise
THE FREIGHT MARKET
The need for the development of freight futures concept
The Baltic Exchange Charts and how they are developed/ structured.
Potential Users of Futures Contracts
A shipowners decision making process in hedging against a freight fall
A charterers' decision making process in hedging against freight increase
OTC Swaps
Cleared swaps
Analyse the different futures and forward contracts in shipping
OVERVIEW OF CURRENT FFA MARKETS
The function
Principles and use of FFAs
Overview of markets (dry vs wet)
Using FFA to cover exposures
Charterers' strategies
Owners' strategies
Setting up a clearing account
Initial margins and margin calls
Default and netting
CORRELATIONS
Between FFA routes and the Physical Market

Trade routes and contracts available
Deciding which contract to use

Between Paper and Physical – choosing the right period and volume
PRICING AND SETTLEMENTS
Baltic index
Daily mark to market (M2M)
Contract settlement
Exchanges – mechanism and futurisation
Clearing houses and exchanges
EXERCISE:
Comparison between future, forward and physical hedging tools
What to trade, when and why
Assess the future market in identifying price risk period
Using a traded contract – manage your own daily book. Mark to market and final settlement
FFA MARKET IN PRACTICE
The forward curves – firm and indicative
Bids and offers – price matching
OTC vs Screen Trading
Trade flow process – OTC Cleared and Exchange traded
General Clearing Merchants (GCMs) – their role and function
FFA TO COVER EXPOSURES – KEY STRATEGIES FOR
Charterers
Owners
Traders
On-site & in-house training
Deliver this course how you want, where you want, when you want – and save up to 40%! 8+ employees seeking training on the same topic?
Talk to us about an on-site/in-house & customised solution.