overview
Recognise the importance of Shipping Law and its critical application to International Trade and the Carriage of Goods by Sea.
 Understand the fundamentals of the Law of Contract, Agency and Tort (Negligence) in relation to Shipping Contracts.
Key Learning Outcomes
Appreciate the critical importance of Shipping Law to risk reduction and profitability when formulating International Trade and Shipment contracts
Understand the application of INCOTERMS in relation to interconnected Sale of Goods, Charterparty and Bill of Lading contracts
Benefit from interactive reviews and case study discussions of Voyage (GENCON) and Time (NYPE) Charter Party negotiations, fixtures and standard terms
Comprehend the legal functions of the Bill of Lading and the regulatory incorporation of the Hague, Hague Visby or Hamburg Rules defences and liabilities
Recognise the special circumstances and liabilities that arise when Bills of Lading are issued in connection with Charterparties
Raise awareness of the use of Cargo Insurance, Shipowners & Charterers P&I and H&M Insurance to protect the parties to International Trade and Shipment contracts.
Understand the use of Jurisdiction and Law clauses and the processes of Mediation, Arbitration and Litigation to resolve maritime trade disputes.
Who Should Attend
Executives employed in the shipping industry wanting to expand their knowledge of legal and commercial matters
Employees who work for commodity traders or any form of trader who use shipping for exporting or importing commodities and goods
Governments or Government Authorities
involved with the international shipping industry and wishing to learn more about the legal and commercial framework
Anyone who desires to gain a deeper understanding of the legal and contractual framework of the Asian maritime industry
Lawyers and Executives in P&I clubs and Insurance companies
Bank Executives dealing with the Shipping and Maritime Industry
Digital Badge
Upon completion of this training course, participants will earn a digital badge.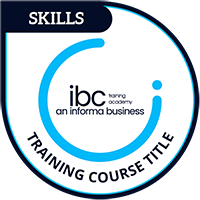 Earners of Shipping Law & Contract Certificates have acquired practical legal & commercial understanding of the shipping business, including the basics of English commercial law, INCOTERMS, sale & shipping contracts; multimodal & through transport carriage; shipping P&I and insurance as well as legal dispute resolution. They are also able to analyse how charterparties and COAs are negotiated, the law & primary functions of bills of lading as well as the challenges commonly arising
Skills:
charterparties, contracts of affreightment, english law, incoterms, voyage charter, time charter, P&I, insurance, bills of lading, carriage of goods, shipping law, letters of credit, contaminated bunkers, safe port, safe berth, laytime, demurrage
Eligibility:
Attend and participate in the 2 full days of training course duration, led by the designated training expert
Available to:
Seminar attendees
Agenda
SHIPPING LAW INTRODUCTION
Shipping (Dry) Law vs. Maritime (Wet) Law vs. Admiralty (Procedural) Law
Common Law and Civil Law jurisdictions in Asia
Maritime Conventions and the Regulation of Shipping
Salvage, General Average and Limitation of Liability
Does 'International Shipping law' actually exist?
BASICS OF ENGLISH COMMERCIAL LAW
English common law system, its application and commercial influence.
Contract law principles and the scope of 'freedom of contract'.
Tort law, the 'duty of care' and 'vicarious liability'.
Restitution and the 'reasonable foreseeability' test.
Contract term exclusions and 'Force majeure'.
CASE STUDY: Charterparty negotiations, binding offers and binding contracts..
INCOTERMS AND INTERNATIONAL SALE AND SHIPPING CONTRACTS
Identification of the sale and shipment parties: the seller/ shipper, the buyer/consignee, the shipper/charterer and the shipowner/carrier
INCOTERMS and allocation of risk under CIF, CFR or FOB terms
Use of bank issued Letters of Credit and MCP terms
Interconnection with shipment contracts inclusive of Voyage and Time Charterparties, COA's and Bills of Lading.
Marine insurance aspects inclusive of Cargo, P&I and H&M insurance.
LAW AND PRACTICE OF CHARTERPARTY CONTRACTS
Voyage and Time Charter common obligations Owners' absolute obligation to provide a seaworthy (fit for purpose) vessel
Voyages must be completed with 'utmost dispatch'
No deviation from direct route except as may be justifiable or agreed by the Liberty clause
Charterer must nominate a safe berth (Voyage C/P) or a safe port (Time C/P)
Shipper/Charterer undertakes not to ship dangerous goods
Agreement to any GA adjustment at an agreed place under the York Antwerp Rules
Incorporation and agreement of the New Jason and Both to Blame Collision clauses.
Consequences of breach of contract or anticipatory breach
Effect of frustration of the contract
Choice of Jurisdiction and Law clause
CASE STUDY: Hong Kong Fir v NKK – chartered vessel's alleged unseaworthiness & charterer's right to withdraw from time charter.
Voyage Charters (including GENCON C/P terms review)
Statement of cargo type, weight and load max/min tolerance
Freight revenue (gross or net) and whether in advance or on delivery + Deadfreight terms
Agreement of Laytime period and Demurrage and Dispatch rates
Date of Expected Readiness to Load and Canceling Date.
Tender of Notice of Readiness (NOR) and terms for acceptance
Starting the Laytime clock and agreed interruptions (e.g. weather, strikes, holidays, etc.)
Statement of Facts for load and discharge port
Calculation of Laytime and Demurrage or Dispatch
CASE STUDY: The Johanna Oldendorff – whether vessel anchored off a port was an 'arrived ship' such that the NOR tendered started the Laytime clock.
Time Charters (including NYPE C/P terms review)
Vessel description, including Load Capacity, Speed and Fuel Consumption
Charter period inclusive of Redelivery Underlap and Overlap provisions
Payment of Hire in advance and right of withdrawal for non-payment
Hire terms application of Currency, Escalator and Anti-Technicality Clauses
Off-hire if full use of vessel is not available to Charterer and deduction from hire payment
Employment clause entitling Charterer's control within the agreed trading area
Charterer's entitlement to require the Master to sign B/L's not be in conformance with C/P terms
Charterer's obligation to indemnify Shipowner against additional liabilities
Charterer's obligation to return vessel 'in same good order…fair wear and tear excepted'
On-hire and End-hire survey and bunker fuel measurement
CASE STUDY: Charterer's 'absolute' obligation to provide bunkers as specified and Shipowner's claim for engine damage due to provision of contaminated bunkers.
VOLUME CONTRACTS OF AFFREIGHTMENT (COA'S)
Concept of 'Industrial Chartering' as a freight hedging tool
Review of BIMCO's VOLCOA standard form contract Carriage of a large cargo quantity under linked Voyage C/P's
Obligations and rights of the parties
CHARTER NEGOTIATION & 'FIXING'
Chartering process, market pricing and bargaining power.
Intermediary role of the Chartering Broker, authority as 'agent' and their commission.
Terminology including 'Indication', 'Offers', 'Main Terms', 'Subjects' and 'Clean Fix'
Use of BIMCO Standard C/P forms e.g. NYPE and GENCON
Issues relating to 'Rider Clauses' and 'Fixture Notes'
LAW AND PRACTICE OF BILLS OF LADING
Three primary B/L functions Receipt for the cargo
Evidence of carriage contract
Document of title

Three principal parties to B/L contract and impact of COGSA 1992
Main B/L types and their use: '

To Order' B/L
' Straight' B/L
'Seaway' B/L

BIMCO standard form B/L's, content review & comparison:

CONGEN B/L 2016 (Dry Bulk)
CONLINE B/L 2016 (Container)
GENWAY B/L 2016 (Way bill)
BILL OF LADING PROBLEMS
Shipper's Letter of Indemnity (LOI) for issuing 'Clean on Board' B/L's
Shipper's LOI for issuing Ante (Pre) and Post dated B/L's
Consignee's LOI for collection without presentation of B/L
Authority of ship's agent to sign B/L's on behalf of Master
Identification of the contractual carrier and party liable for cargo claims.
CASE STUDY: The Nogar Marin – Master's Charterparty obligation to sign clean on board B/L's 'as presented' when steel cargo was rusty and damaged?
CARRIAGE OF GOODS BY SEA CONVENTIONS
International cargo liability conventions:

Hague Rules 1924
Hague Visby Rules 1968
Hamburg Rules 1978
'Hybrid' national law rules
Rotterdam Rules 2008
What Rules apply and when?
Function of the B/L Clause Paramount
Obligations and entitlements of the parties to the B/L
Carriers' exemptions from liability subject proof of due diligence to make vessel seaworthy
Carriers' HV Rules limitation of liability
Cargo claims Time Bar and 'stopping the clock'
MULTIMODAL AND THROUGH TRANSPORT CARRIAGE
Containerization and advent of 'door to door' delivery
Definitions and comparison of Unimodal, Multimodal and Through Transport
Liner Trade – Multimodal B/L's and the legal obligations of the 'door to door' single contracting carrier
Through B/L's and the legal obligations of the 'door to door' contracting and subcontracting carriers

Example: CONLINEBILL 2016

Application of the Hague, Hague Visby and Hamburg Rules, together with the CMR, to exempt or limit carrier's liability.
Use of the Himalaya and/or Circular Indemnity Clauses to extend protection of the Rules to subcontractors
CASE STUDY: Container cargo damage scenario, onus of proof and application of B/L terms.
CARO, P&I AND HULL INSURANCE
Application of the Marine Insurance Act 1906 and Insurance Act 2015
Underlying insurance principles and definitions

Cargo insurance policies: Cover provided by ICC Policies forms A, B and C
Minimum cover required under INCOTERMS CIF sale and shipment
Cargo underwriter's subrogated recovery against a carrier and their P&I Club
Shipowners', Charterers' and Traders' P&I liability (P&I) insurance P&I Club Rules and the shipowners' and charterers liabilities covered, inclusive of cargo damage and other losses.

P&I exclusions from cover and warranties
P&I recoveries against 3rd parties and contractors.
P&I cover for unpaid cargo GA contributions
Shipowners' Hull and Machinery (H&M) insurance

Cover provided by the ITCH 1983 Clauses, inclusive of Salvage, GA and Sue and Labour expenses.
H&M exclusions from cover and warranties
H&M recoveries against 3rd parties including cargo shipper interests and charterers.
CASE STUDY: MV Rena – container ship grounding resulting in pollution, cargo damage, salvage, GA and wreck removal.
JURISDICTION, LAW & DISPUTE RESOLUTION
Choice of Jurisdiction and Law (J&L) clauses and incorporation into C/P and B/L contracts
Issues of forum non conveniens to avoid agreed J&L clauses
Resolution methodology review and comparison inclusive of: Negotiation

Mediation
Arbitration
Litigation
DISCUSSION: Factors impacting on choice of dispute resolution method and outcomes.
On-site & in-house training
Deliver this course how you want, where you want, when you want – and save up to 40%! 8+ employees seeking training on the same topic?
Talk to us about an on-site/in-house & customised solution.