overview
Key Learning Outcomes
Understand the types of charter and the commercial, technical and financial obligations of owners and charterers
Discuss dry and wet cargo charterparty obligations and know who is responsible for what
Know the relevance of Hague / Hague-Visby / Hamburg / Rotterdam Rules and the advantages and disadvantages of each
Appreciate the role of port agents and their vital functions and obligations
Understand the role of shipbrokers – for owners or charterers and the best methods of fixing ships and cargoes
Analyse what can go wrong with wet or dry cargo chartering and how to prevent them
Learn practical voyage estimating, its importance and how it affects laytime calculations
Mediation, litigation and arbitration – know which will work for your dispute resolution
Who Should Attend
Shipowners
Charterers including Importers, Exporters and Traders
Ship Managers
Port and ship agents
Shipbrokers
Freight forwarders
Legal advisers
Government bodies and representatives
Banks
Trainer
Jeffrey Blum
Jeffrey Blum's involvement in shipping and trading spans over 45 years. He is the fourth generation of a shipping family, has been an active member of the Baltic Exchange since 1976 and has worked with a Lloyd's underwriter and as a shipbroker, ship owner and operator, gasoil futures broker, charterer and commodities trader in London and abroad.
He achieved Fellowship of the Institute of Chartered Shipbrokers by examination in 1979 and since 1983 has served on the ICS International Controlling Council, the International Membership Committee and the UK & Ireland Zone Committee. He has served on the London & South East Branch Committee since 1983, including its Education Officer 2000 – 2015, Chairman 2005-2007 and Vice Chairman 2015-2017.
Jeffrey has been a Fellow of the Chartered Institute of Arbitrators since 1997 (Associate since 1979), is an active Supporting Member of the London Maritime Arbitrators Association (LMAA) and has been an arbitrator (both sole and tribunal) since 1994 and an expert witness since 1983. He has been on the controlling council of the International Commodity and Shipping Arbitration Service (ICSAS) since its creation in 2005.
Since 1984 he has been lecturing on maritime commercial subjects and law at universities and colleges throughout the UK. Since 2002 he is the founder director and principal lecturer of METL (Maritime Education & Training Ltd), a college in central London which provides bespoke training and prepares examinees for the ICS worldwide exams in eight core subjects. Since 2007 he is a Visiting Professor at the UN IMO's World Maritime University in Malmo and at the Shanghai Maritime University and is a frequent presenter at conferences and masterclass workshops worldwide. For many years he has contributed to trade magazines and books and is currently editing the 12th edition of a long-established textbook on Chartering.
Jeffrey provides maritime and commodities commercial claims consultancy and training through Interlink International Trading (UK) Ltd which he founded in 1994. His clients include oil majors, commodity traders, shipowners, P&I Clubs, shipbrokers, law firms, banks, governments and international shipping organisations.
Digital Badge
Upon completion of this training course, participants will earn a digital badge.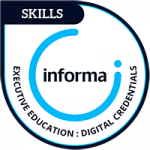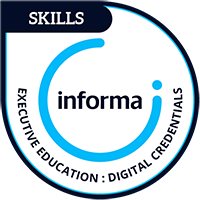 Eligibility:
Attend and participate in the 2 full days of training course duration, led by the designated training expert
Available to:
Seminar attendees
Live Online Learning
Benefits of Live Online Learning
Aimed at offering you immediate, high-quality practical information whilst minimising time and expenditure associated with travelling, our digital training platform enables you to interact in real time with course directors and remotely network with your fellow participants.
Progress through the course with fellow participants as you would in a classroom
Conduct Q&A with course directors in real time
Effectively achieve learning objectives with minimal disruption to your busy schedules
Maximise cost saving with reduced travel and discounts for online participation
Earn your Digital Certification and broadcast your achievements to your peers
Deploy new age interactive tools to learn more from fellow participants
Agenda
VESSEL EMPLOYMENT METHODS – VOYAGE AND TIME CHARTERING
Types of charter
Commercial / Financial / technical responsibilities of owners and charterers
DRY AND WET CARGO CHARTER PARTY OBLIGATIONS
Who is responsible for what
How dry cargo problems differ from tanker cargo problems
HAGUE/HAGUE-VISBY/HAMBURG/ROTTERDAM RULES
History and relevance or irrelevance of each set of rules
Advantages and disadvantages of application of each set of rules
Why the Hamburg Rules have a small following
Why the Rotterdam Rules are not yet in force
BILLS OF LADING
Main functions
Endorsement
Charter Parties
Letters of Credit / UCP 500 v UCP 600
THE ROLE OF PORT AGENTS
Vital functions and obligations – to whom and why
Less essential (but nevertheless important) obligations
Agency Law
THE ROLE OF SHIPBROKERS
Why brokers for Owners or Charterers
Exclusive or Direct or Competitive International shipbroking markets
How to negotiate
How not to negotiate
The marriage bureau – best methods of fixing ships and cargoes
CARGOES AND TROUBLES!
What can go wrong and why – dry cargoes
What can go wrong and why – wet cargoes
How to prevent such problems
Bills of Lading and Letters of Indemnity
VOYAGE ESTIMATING
Theory – why it is important
Practice – how it affects Laytime calculations
LAYTIME AND DEMURRAGE – THEORY AND WORKED CALCULATIONS
Theory
Which documents are essential and why
How to use and abuse those documents
Readiness of the vessel
When the clock starts to tick
Exceptions and Interruptions
Dry cargo laytime examples
Tanker laytime examples
DISPUTE RESOLUTION METHODS
Mediation, Litigation, or Arbitration? Why?
Personnel involved with each of these methods
Likely costs of each of these methods
Binding? Precedence?
Enforcement of international awards, including New York Convention 1958
On-site & in-house training
Deliver this course how you want, where you want, when you want – and save up to 40%! 8+ employees seeking training on the same topic?
Talk to us about an on-site/in-house & customised solution.