overview
Practical, Commercial, and with a focus on the ASEAN market, this course will take participants through key aspects of deal sourcing, structuring, and contracting, that ensure win – win outcomes for all parties in the transaction.
Using case studies, our expert course faculty will highlight risk management strategies, typical problem and dispute areas, and the right fix. It is recommended that both business development / licensing executives and legal managers from firms attend to maximise value.
Key Learning Outcomes & Case Studies Include
Licensing deal structures and components – a customised approach
Win-win negotiation strategies for all parties
Deal valuation and modeling based on projecting commercial returns
IP Contract structures applicable for the ASEAN market
Documentation practicalities
Key issues in cross border licensing
Dealing with foreground IP and background IP and the impact on business
Patent portfolio due diligence: Key considerations before acquisition
Post deal management
When the deal goes awry – exit strategies and legal matters
Who Should Attend
Licensing, Business Development, R&D, Commercial and Strategic planning executives from Pharma, Biotech, Government, CMOs, CDMOs and Investors / Financiers in the industry. Specific job functions including but not limited to:
Head of Business Development and Licensing
Corporate Development and In Licensing Manager
Director Global Business Development and Strategy
Strategy Planning
Commercial Managers/Directors
Chief Scientific Officer
Heads/Managers of R&D
CEOs and Heads of Investment
In house counsel/legal managers
Trainer
James Kinnaird
Partner, Marks & Clerk (Singapore)
James has particular expertise in assisting clients with the drafting and prosecution of applications in the pharmaceutical, chemical, food, life sciences and materials fields. He has managed and implemented strategies for protecting the inventions of pharmaceutical companies worldwide and spent a year advising a proposed, new business unit of AstraZeneca on its Freedom to Operate across multiple jurisdictions and products.
He is also heavily involved in helping pharmaceutical companies conduct due diligence in respect of patent portfolios that they are interested in acquiring or licensing. Recent examples of this include two licencing deals conducted by AUM Biosciences.
Areas of Expertise
Due diligence on patent portfolios before acquisition/licencing (buyer or seller)
Freedom to Operate
Product lwaunch risk identification/de-risking
Litigation Support
Intellectual property clause review in agreements and liaison with lawyers
Drafting, filing and prosecuting patent applications worldwide for pharmaceutical companies, ranging from large (Pfizer, AstraZeneca, BMS), medium (e.g. Orexo, Heptares Therapeutics) to small (e.g. AUM Biosciences, Betagenon)
James has a (BSc(Hons) Chemistry with Medicinal Chemistry from Glasgow University, PhD from Cambridge University). He initially followed the usual path for chemists with his background and spent time in the US doing postdoctoral work at Columbia University and as a medicinal chemist at Pfizer in Sandwich (UK), before switching track to become a patent attorney in 2005. He is now a Registered Singapore Patent attorney (2014), Chartered Patent Attorney (UK, 2009) and he was also a European Patent Attorney (qualified 2009) before his move to Singapore in 2013.
Wendy Low
Partner, Eldan Law
Wendy is the co-head of the IP practice of Eldan Law LLP, with a specialist focus in IP and technology related advisory and dispute. Between 2008 – 2017, she was a partner with the IP team of Rajah & Tann. She had been profiled as one of the "50 IP Litigators You Should Know" in the Asia Pacific region (Asia IP, September 2013) and had been consistently awarded the IP Star by Managing IP in 2014, 2015, 2016 and 2017.
Wendy's practice focuses in copyright, trade mark, patent and confidentiality related disputes. She also has experience in IP prosecution, licensing and commercialisation work and provides IP and IT related advice to a range of clients including international conglomerates, SMEs, and government_linked organisations.
She regularly acts for international generic companies to defend patent infringement allegations arising out of their drug applications under the Health Products Act. She has also been engaged across a spectrum of medical and nutritional science related disputes, including in defending the CTO in a shareholders' fallout in a start-up for a biomedical device and acting for an online medical website against a competitor for trademark infringement and passing off in using similar/ identical terms to generate Google Adword advertisements.
Wendy has aligned stakeholders across countries (particularly in ASEAN), levels and functions to ensure that solutions are driven towards business success. She regularly speaks on IP, franchising and licensing related topics across a range of local and international forums.
Digital Badge
Upon completion of this training course, participants will earn a digital badge.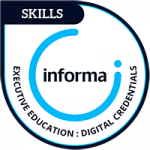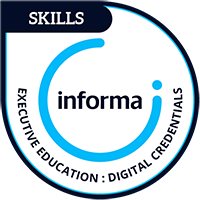 Eligibility:
Attend and participate in the 2 full days of training course duration, led by the designated training expert
Available to:
Seminar attendees
Agenda
Pharma/Biotech Licensing – Evolution And Current Touch Points
Licensing as a source of new pipelines
Early and late stage drug development M&As and licensing needs
Tech driven licenses
Drug distribution licensing
The In/Out Licensing Deal Market In ASIAN
Trends and opportunities
Typical deal structures
Scope for innovation
The In/Out Licensing Process
Deal making components and structures
Territory, Loans, Field of use, upfront payments, royalty rates, development cost sharing, profit sharing, sales based milestones, co promotion rights, lead party
Strategy
The negotiation process
Contractual issues
Termination rights
Valuation Of Licensing Deals
Key factors
Criteria
Modeling the deal
Exercise: Using a spreadsheet, participants will model the optimal deal structure for a pharmaceutical compound to be licensed for commercialisation, followed by valuation
Structuring Biotech/Pharma Ip Contracts
Formation of contracts
Validity of contracts
Structure of a contract
Commercial considerations
Protecting IP – Patents, Trade marks, Passing off, Trade secrets/confidential information
IP Licenses
Form of IP Licence
Difference from assignment
Scope of use
Background IP
Dealing with foreground IP
Concerns of the IP Rights Owner/Licensor
Royalties/licence fees
Infringement
Wrongful use
Reputational damage
Sub-licensing
Reverse-engineering
Competition
Breach and termination
Exercise: Licensing Agreements For Immune Checkpoint Inhibitors
Concerns Of The IP Rights User / Licensee
Royalties/licence fees
Duration
Validity and geographic coverage
Extent of usage
Ownership of new developments
Licence fees
Infringement of third party IP rights
Breach and termination
Negotiating A Balanced License
Establishing intended outcomes
Relative bargaining positions
Identifying points of conflict and points of agreement
Win-win vs positional negotiation
Seven strategies of effective negotiations
Specific issues relating to negotiating an IP licence
Documentation
Term Sheets
Confidential Prospectus
Non confidential brochure
Considerations For Cross Border Licensing
Choice of jurisdiction
Selecting governing law
The dispute resolution process
Post Deal Management
Project Management
Alliance Management
Patent infringement and arbitrations
Licensing agreement disputes
On-site & in-house training
Deliver this course how you want, where you want, when you want – and save up to 40%! 8+ employees seeking training on the same topic?
Talk to us about an on-site/in-house & customised solution.