overview
Key Learning Outcomes
International standards and regional perspectives on medicinal packaging & labelling (P&L)
The roles of P&L in mitigating drug supply chain risks
Key elements of successful track-and-trace and drug anti-counterfeiting systems
Important guidelines in drug packaging, storage, handling & transportation
Important guidelines in drug labelling and artwork
Key considerations in maintaining a GMP-compliant artwork process
Practical strategies for maximising patient adherence through P&L processes
Practical case studies: OTC, biosimilars, combination products, API products and others
Approaches for resourcing and auditing P&L suppliers
Technological advances and applications in P&L
Potential legal issues pertaining to labelling violations, contamination, recalls, marketing, medical affairs and more
Who Should Attend
This programme is essential to any technical, commercial and compliance executives involved in or making decisions on medicinal products' registration, compliance, launches, distribution, including:
Packaging, Labelling & Artwork technicians
Pharma Supply chain & Distribution
Quality assurance
Regulatory affairs
Market Access
Relabelling, Repackaging
Production control
Operations
Serialisation Project management
Technology
Drug Marketing, Procurement & Distributors
Contract manufacturers
Packaging & Labelling technology providers
What Attendees Like About Our Life Science Programmes
"Trainer has great experience & approach to teaching and offers substantial knowledge in end-to-end process for contract manufacturing"
Lee Jong Nyung, TO Manager, Janssen
"The programme includes good overview information on pharma strategies across the ASEAN region. I enjoyed the global drug trends discussion"
Shahanar Sulaiman, Deputy Operations Director, Pharmaniaga Manufacturing Berhad
"Instructor makes a complicated topic easier to understand. Great interaction with participants to discuss about projects, initiatives & market access"
Christy Oi, Regional Financial Controller, IPSEN Pharma Singapore
"I understand more on issues and challenges faced by RA professionals as well as packaging & labelling compliance across different countries"
Beh Renlin, Senior RA/R&D Executive, Leung Kai Food Medical
"The course enabled me to improve general understanding on Pharma regulations, as well as participate in active discussion with other trainees"
Chng Kien Peng, Executive Director, Xepa-Soul Pattinson (S) Pte Ltd
Trainer
Dr. Salma Michor, PhD, MSc, MBA, CMgr, RAC
Salma Michor is founder and CEO of Michor Consulting and Trade Services GmbH.
She has advised numerous global clients across Pharmaceutical, Medical and Food industries, including J&J, Novartis, Pfizer and Shire and many more.
Prior to Michor Consulting, Salma worked for Torrex-Chiesi (Chiesi Farmaceutici S.p.A); Wyeth Whitehall Export, and Croma Pharma GmbH and had been the Director of Global Supporting Operations – Medical Devices and Pharmaceuticals (Ophthalmology & Orthopedics) where she was in-charge of technical and leadership of four departments – including Regulatory Affairs and Compliance; Medical and Vigilance; Change Control and Life Cycle Management; as well as Packaging and Pharmaceutical editing. Her duties included overall leadership & management of human resources, budgeting and strategic planning, liaison with external contractors, doctors and customers in 60 countries worldwide. Here she also got first-hand experience with submission of clinical trials phases: I-III as well as turnaround management of post-Mergers and Acquisitions integration operations. Her specialties include:
Post-acquisition phase-out and closedown after M&As
Managing DCP registrations Consolidation of Multi-language labelling texts for pharmaceutical products and medical devices
Labelling compliance for drugs & food supplement
Authoring CMC sections for drug products or drug/device combination products
Preparing pharmaceutical and medical device companies for internal and FDA audits Managing large company-wide compliance projects (CAPA, GMP, ISO, etc)
Forming clinical and registration strategies for combination products
Preparing a medium sized company in a 3rd country for EMA, MHRA and AGES inspections and managing the whole biotech registration and clinical testing in the EU
Digital Badge
Upon completion of this training course, participants will earn a digital badge.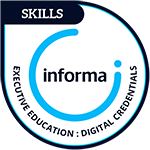 Earners of this badge have acquired advanced-level understanding of regulatory, technical requirements in developing & maintaining compliant artwork, packaging & labelling processes for medicinal products across pharma value chain (including OTC, biosimilars, combination and API products). They have also examined practical strategies for successful deployment of track-and-trace and serialisation programmes which maximise anti-counterfeiting, patient adherence objectives and optimising drug supply chain security
Skills:
packaging, labelling, drug supply chain, patient adherence, OTC, biosimilars, combination products, API products, regulatory affairs, market access, production control, quality assurance, supply chain, drug marketing, GMP-compliant artwork, track-and-trace, serialisation
Eligibility:
Attend and participate in the 2 full days of training course duration, led by the designated training expert
Available to:
Seminar attendees
Agenda
GUIDELINES IN MEDICINAL PACKAGING, LABELLING & ADVERTISING
International standards (ISO, GMP, GDP)
EMA/CHMP and FDA perspectives
EU practices on SmPC, package leaflets and product labelling
Falsified Medicines Directive (FMD) Compliance and potential applications in ASEAN
ASEAN harmonised labelling requirements and country-specific regulatory updates
Private labelling law
DRUG SUPPLY CHAIN RISKS
Drug supply chain integrity and control
Traceability, counterfeit & drug supply shortage
Facilifised medicines in Southeast Asia
Adverse drug events and medication errors
ANTI-COUNTERFEITING AND SUPPLY CHAIN VISIBILITY
Serialisation of Pharma Folding Cartons & Track-and-trace solutions
Countries' regulation of process compliance
Key elements of a successful track-and-trace system
System validation, security, handling and maintenance
LABELLING & ARTWORK GUIDELINES
Creation of labelling from SmPC

Labels, PIL, label-leaflet variants, Patient package inserts' (PIs) replacement and supplement
Difference between Generics/Rx/OTC labelling

Concept of readability and guidelines of readability testing
Serialisation requirements
Specific requirements

Formatting, quality, material, braille, symbols, multilanguage, storage information
Labelling in foreign countries
PACKAGING, STORAGE & HANDLING GUIDELINES
Creation of package

Primary, secondary & tertiary packaging
Packaging component specifications, materials, folds, carton, blisters

ISO 15378:2017, ISO 21976:2018

Specific requirements Safety, manufacturing efficiency, eco-conscious
Codes and verification of codes on packaging equipment

Mitigating damage in the supply chain

Breakage, spillage, sterility, impermeability, contamination-proofing, temperature range
IMPLEMENTING A GMP-COMPLIANT ARTWORK PROCESS
Packaging & labeling errors
Artwork lifecycle workflow
Content control and recordkeeping
SOPs and Change Control considerations
Minor and major variations submissions/reply to deficiency letters
CASE STUDIES: OTC LABELLING & PACKAGING
Self-medication and safety issues
Inconsistency and variability issues
PROMOTING PATIENT ADHERENCE THROUGH LABELLING & PACKAGING STRATEGIES
Data-driven insights on patient adherence
Key barriers and factors influencing adherence

Adherence packaging for patient compliance Multimed packaging
Medication therapy management best practices

Patient-centred prescription drug label
CASE STUDIES: NAMING, LABELLING FOR BIOSIMILARS
New FDA guideline
Documentation on immediate plastic packaging

Types of administration
Dosage forms

Labelling requirements:

Unique device identification
Instructions for use

Design reviews, verification, validation, document input/output data
AUDITING PACKAGING & LABELLING SUPPLIERS
Product quality, specification, cost & security of supply
ISO testing standards
Delivery time and speed-to-market considerations
Technical and quality agreement (TQA), Service level agreement (SLA)
Flexible resourcing approach
CASE STUDY: PACKAGING OF COMBINATION PRODUCTS AND MEDICAL DEVICES
MATERIALS, PACKAGING, STORAGE & HANDLING OF APIs
New FDA guidance on APIs packaging, repackaging, labeling & distribution
TECHNOLOGIES IN PACKAGING & LABELLING
Anti-counterfeiting

e-labels, self-destructive labels

Secure & Sustainable packaging

Biodegradable packaging
Pre-fillable syringes
Smart packaging sensors

Labeling & artworks

DNA authentication technology
Ink technology

RFID tags
Tamper-evident technology
Nanotechnologies & plastics
Blockchain
LEGAL ISSUES SURROUNDING THE ASIAN REGIONS
Contamination issues
Labeling violations
Statutory warnings
Unapproved prescription drugs
Recalls
On-site & in-house training
Deliver this course how you want, where you want, when you want – and save up to 40%! 8+ employees seeking training on the same topic?
Talk to us about an on-site/in-house & customised solution.