overview
Online Course:
Setting up and running clinical trials is a complex, timely and costly process. It is essential to manage your clinical projects with streamline efficiency to ensure they are completed within set timeframes and to budget. With this in mind, clinical professionals are increasingly looking for ways to improve the results of their clinical projects by implementing project management techniques.
Over 8 modules, this course will examine key management techniques such as analysing stakeholders, assessing risk/benefits and management style.
What Will You Learn
Identify and communicate the key roles and responsibilities needed through the clinical research project life-cycle
Examine the core competencies needed to successfully select your clinical research project team
Bring your projects in on time, within budget and to specification using a Work Breakdown Structure
Identify the project critical path and use it to make informed decisions
Remedy key patient recruitment challenges
Work more effectively both individually and as part of a team
Who Should Attend
All clinical research professionals with limited time for personal development will benefit from the flexible learning approach, including:
Clinical Research Associates
Clinical Project Managers
Assistant Project Managers
Clinical Trial Manager
Clinical Affairs Manager
Study Coordinator
Clinical Trial Officer
Clinical Study Coordinator
Clinical Operations Manager
Clinical trials monitor
What is an Online Academy course
Online academy is a new online, interactive and engaging education tool designed to maximise learning for professionals with busy schedules and/or small training budgets.
The online academy brings alike professionals together and gives you the opportunity to share ideas and questions via the discussion forum creating your own professional community. Our on-demand feature means the content is available as and when you need it allowing greater flexibility to your professional development and learning.
Over 4 Weeks Students Will Learn Through
8 modules, split up into multiple bitesize recorded videos
Quizzes to test your knowledge
Revisit the content with unlimited access to all the materials for 2 months
Access the discussion forum to interact with other students
Direct contact with the trainer through the forum during the 4 weeks the course is running
Additional content such as materials and white papers available to download
Interview
60 second interview with Ian Stokes on exploring the challenging aspects of managing clinical trials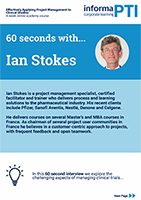 What are some of the current trends in the clinical research industry and how the industry changing in the future?
Why is it important to effectively manage clinical research?
What are the most challenging aspects of managing a clinical trial?
What are the top three tips to effectively manage clinical research?
About PTI - Pharmaceutical Training International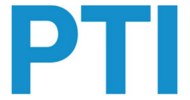 PTI is a global interactive training partner committed to the personal progression of aspiring life science professionals. We have a network of expert trainers who have a minimum of 10 years' industry experience to meet your training requirements and all our courses are CPD certified.
Our Promise
Our vision is to enhance key skills and competencies to drive continuous innovation and accelerate drug development. When you invest in a PTI course we want you to feel secure, inspired and ready to take on new challenges.
CPD Certified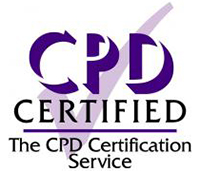 After completing a PTI course, you will be awarded with the CPD Certification certificate. This is a recognised independent CPD accreditation compatible with global CPD principles.
The Certificate of Achievement provides proof that you have taken the course and can be used on your CV or work portfolio.
Alumni Testimonial
"The course structure and format were amazing! Fantastic work Ian!"
Senior Regulatory Affairs Specialist
Benefits of an Online Academy Course
Learn and apply – implement what you learn during the course
Become part of a professional learning community – discuss any problems with students and/or the trainer
Time effective – bitesize chunks so it does not impact on your normal working day
Cost effective – no travel expenses
Grow as a team – with multiple licenses your team can access the course and learn together, no matter where they are in the world
FAQs
Do sessions go out live?
No, all content is recorded and a set number of modules are released per week. You have unlimited access to module content once it has been released for the duration of the course and an additional two months.
Can I join after the course start date?
Yes, because modules are not live and all content is recorded you can catch up. Please contact us at training@informa.com.au to enquire about joining a course after the start date.
Can I still take part if I'm away for part of the course run?
Yes. Online Academies provide a flexible learning format. As modules are not released live and are available for review, you will be able to catch up.
How long is my enrolment on the course?
You are enrolled on the course for the period that modules are being released and the trainer is active on the discussion forum (this varies from course to course – between 3 – 8 weeks) and for an additional 2 months after this to review course content.
Who do I contact if I have any problems while the course is running?
You should contact PTI.MDTI.ATI-online@informa.com
When will I receive my log-on details for the course?
Once you have paid, a member of the team will be in touch with your log-in details. We must receive payment for you to access the course.
How can I access the content?
Content is hosted on our Learning Management System, which you access using your device. A link will be provided to you with your log-in details.
What if I need extra time on the course?
Please contact us at training@informa.com.au if you would like extra time on your course beyond the enrolment period. Extra time is subject to approvals and fees may apply.
Agenda
Each module contains approximately 1 hour of content
Module 1:
Review the Nature of a Project and Project Management in Clinical Research
Project management principles
Clinical project management challenges
Portfolio and programme management,
Drug development timeline
Project life cycle
Clinical project management roles and responsibilities
---
Module 2:
Defining a Mission for the Project and Performing an Analysis of Stakeholders, Risks and Benefits
Clinical project management documentation:

Project charter
Project plan
Trial master plan

Clinical protocol
Standard operating procedures
Stakeholder engagement
Project outcomes
Benefits and risks
Business cases
---
Module 3:
Structure and Organise a Clinical Research Project and/or a Clinical Study
Project needs
Objectives and requirements
Work breakdown structure
Responsibility matrix
---
Module 4:
Planning an Estimation of Time and Cost (Schedule and Budget)
Art (participative method) and science (techniques) of estimating effort and durations
Planning work packages and activities from the Work Breakdown Structure
Defining dependencies, milestones and deadlines
Calculating the critical path
Probabilistic analysis and critical chain
---
Module 5:
Setting Up a Project Baseline
Risk management
Decision making
Setting up the project baseline (scope, time, cost)
Managing the project baseline
---
Module 6:
Managing Suppliers (Contract Resource and Site Management Organisations)
Appropriate contracting arrangements between clients and suppliers
Trust-based approaches for setting up a good working relationship
Patient recruitments challenges,, remedies and good practices
---
Module 7:
Skills and Methods to Improve and Speed Up Your Projects
Teamwork
Project communication
Conflict management
Motivation
Time management
---
Module 8:
Closing Out the Project, Learning from Failures and Building from Successes
Project progress
Project results management
Project close-Out
Learning and improvement processes
On-site & in-house training
Deliver this course how you want, where you want, when you want – and save up to 40%! 8+ employees seeking training on the same topic?
Talk to us about an on-site/in-house & customised solution.