overview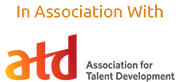 This unique assessment-based certificate program has expert facilitators working closely with you to help you master all aspects of training delivery. With this program, you will identify areas where you excel, and where you have opportunities for growth. You will benefit from collaborative and concrete training, and then be invited to assess your skills and knowledge.
Proving your ability will earn you the respected title of ATD Master Trainer. Become part of this exclusive group today. Be properly prepared as the role of the trainer evolves and more is demanded of your talent and time. The ATD Master Trainer Program is a unique assessment-based certificate offering that covers the entire process of delivering training, including assessment, preparation, creating a positive learning environment, facilitating learning, and evaluating learning. Grounded in theory and focused on practice and application, this program will develop your professional capacity in this area of expertise.
By the end of the program, you will be able to:
Diagnose your current ability in delivering training, with the ATD Master Trainer Self-Assessment tool
 Prepare for a training session
 Conduct a needs and audience analysis to determine the need for training
 Identify measurable learning objectives
 Apply adult learning principles
 Establish an environment conducive to learning
 Create diverse opportunities for participants to connect with the content
 Facilitate learning using best practice techniques
 Practice learner-centred training methods and alternatives to lectures
 Develop strategies for different learning needs
 Identify challenges in the classroom, and select and apply the most effective solutions
 Enhance your capacity to design effective audio visuals and learning aids and use them successfully in your training
 Evaluate training at the "Four Levels": participant satisfaction, learning, application and behavior change, and business impact
 Identify strengths of delivering face-to-face training and online learning, and determine best practice that apply to both environments
 Demonstrate core and comprehensive knowledge in delivering training, including principles, models, and trends
 Demonstrate the ATD essential skills in delivering training, including preparation, creating a positive learning environment, facilitating learning, managing challenges, and evaluating learning
Key Business Benefits
Industry-recognized certificate – ATD Master Trainer™
Connection to a cohort of learning professionals
A complete learning prioritization inventory tracking your professional growth in delivering training
Access to the ATD comprehensive guide to delivering training
Experience with four practice deliveries
A video of your final training delivery with individualized feedback and analysis
A robust participant guide, with tools, resources, and templates to use back on the job
Who Should Attend
ATD Education programs are designed primarily for learning professionals – trainers, instructional designers, and organizational development practitioners – but also greatly benefit anyone within an organization who is responsible for developing others, from managers to human resources specialists.
ATD strongly recommends participants have at least one to two years of exposure or experience with presenting or training
Testimonials
"My favorite takeaways from the ATD Master Trainer Program include the experience of developing a short training segment, presenting it, and then being critiqued by the facilitators and a panel of fellow participants. Hugely valuable feedback!
I would recommend this program because it is really quite practical and you come away with a reliable assessment of your skill. Almost anyone feels they can label themselves a «trainer» simply because they have been in a classroom. We all know that is nowhere near the truth and that this profession requires a significant amount of skill and knowledge.
In my opinion and experience, ATD is the most cost-effective way to invest in my professional development."
Deputy Director, Devis
---
"The ATD Master Trainer program offered a highly productive learning environment with measurable goals and objectives. I was able to return to my job and immediately put my new skills to work.
My favorite takeaways were:
– Continually seek new ways to engage your learners and keep them interacting.
– Try to reinforce how the learning will be beneficial to the learner.
– Keep things fun and exciting."
Manager of Product Development, Berry Plastics
About ATD

The Association for Talent Development (ATD), formerly known as ASTD, is the world's largest association dedicated to those who develop talent in organizations. For 70 years ATD Education's mission has been to empower learning and development professionals with the knowledge and skills they need to be successful and remain competitive. We offer cutting-edge training and professional development programs to bring you the latest research in the field, best practices, expert-vetted content, and tools you can immediately use on the job. Each learning experience prepares you to maximize the efficiency of your systems and processes, while supporting and developing your people.
OUR APPROACH
ATD Education offerings are shaped by extensive research, input from expert practitioners, emerging trends in the field, and member and customer feedback. The ATD Competency Model—which defines the knowledge and skills learning professionals need to have—forms the foundation for our content. Education offerings are aligned to the Model, providing you with a comprehensive learning path.
ATD understands, develops, and delivers the most practical and application-oriented training and professional development opportunities. Every offering is designed and developed by teams of practitioners, subject matter experts, instructional designers, and ATD staff to ensure the perfect balance of theory, structure, engagement, practice, and application. This approach means learning professionals can be confident that they are building a strong foundation, while at the same time staying on top of important trends in the field. And our programs are not only practical in the classroom — ATD's participant guides are packed full of tools, templates, checklists, and forms that are available electronically and can be applied immediately on the job.
What to Expect
Part 1: Fundamentals (Online): Approximately three weeks prior to the face-to-face component, you will join your peers in a private online community to complete self-directed exercises. You will be welcomed to the program, invited to network with your facilitator and fellow learners, and given access to the key program materials and resources.
These valuable materials include the ATD Learning System Module 2 (Delivering Training), an online discussion led by your ATD expert facilitator, and five ATD Infolines: "Accelerated Learning," "Blended Learning," "Creative Facilitation Techniques for Trainers," "Ensuring Learning Transfer," and 'Facilitating in the Global Virtual Classroom."
Part 2: Core Course (Face-to-Face): You will attend a four-day classroom training, covering content on assessing needs, preparing for training, creating a positive learning environment, facilitating learning, managing challenges, and evaluating learning.
Highlights include:
 A connection to the Orientation
 Building on your learning prioritization inventory
 Multiple opportunities to practice and improve your delivery (including video-taping)
 A knowledge test on Day One
 A skill demonstration on Day Four
 ATD will record your presentation and an ATD expert facilitator will provide detailed personalized feedback, coaching, and analysis. Class size is limited to 16 to provide more comprehensive and tailored learning
Part 3: Elective and Wrap-Up: (Online or Face-to-Face): You will continue your personalized learning experience by completing the elective course (online or face-to-face) of your choice to help you address your own unique professional development needs.
Certification
While passing the program is not guaranteed, ATD is committed to your success. Our expectation is that participants will bring significant dedication and effort to the experience in order to achieve foundational mastery in the program's concepts.
ATD estimates that it should take approximately three to four months to complete the entire program. Keep in mind that this is a blended learning experience consisting of three parts: an online Fundamentals, Core Course, and Elective. The Fundamentals section, which is self-directed, is accessible three weeks prior to the program, the Core Course takes place over five days via an in-person training, and then you choose an elective from a predetermined list of ATD online or face-to-face certificate programs. How long it takes to complete the elective course depends on scheduling (for example, when the program will be offered). Upon successful completion of all components, participants will receive their ATD Master Trainer certificate in the mail.
Attendance Policy
Participation in all originally scheduled days of the program is mandatory in order to receive the certificate of completion and 2.8 CEUs. Participants who miss more than two hours of the entire program will not be eligible to receive the certificate. Participants who fulfill the attendance requirement will receive a certificate at the end of the program.
Watch Webinar
What makes a Master Trainer?
Nikki O'Keeffe from Association for Talent Development (ATD) in this exclusive webinar shows how you can take your facilitation skills to the next level. You will learn:
 An introduction to the ATD
 Outline ATD's exclusive ATD Competency Model
 Why the Master Trainer program could be right for you
 Break down the ATD Master journey
 Reflect on what makes a Master Trainer
Agenda
DAY ONE
Module 1: Introduction
 Getting Started
 My Training Toolbox
 Learning Objectives
 Agenda Overview
 Opening a Session with PUNCH
 A Training Cycle
Activity: Overview of Skill Demonstration review
Module 2: Purpose & Assessment
 Needs Assessment
 Training Needs Assessment Checklist
 Learning Objectives
Activity: Practice Skill Delivery
DAY TWO
Module 3: Planning & Preparation
 Sequencing Facilitation
 Gagné's Nine Events of Instruction
 ROPES Phases of Instruction
 Connecting to Business Needs
 Tailoring to Participants' Needs
 Selecting Learning Methods
 Outlining Delivery Methodologies
Activity: ROPES; Examples, Analogies & Storytelling; Using Various Delivery Methodologies; Selecting Learning Methods
DAY THREE
Module 4: Presentation & Facilitation
 Creating a Supportive Learning Environment
 Presenting Effectively
 Involving Participants
 Capitalizing on Diversity
 Building on Comments
 Lecturette and Facilitation
 Questioning Techniques
 Receiving Responses from Participants
 Answering Questions
 Managing Challenging Behaviors and Situations
 Displaying Flexibility with Unexpected Events
 Providing Support and Maintaining Esteem
 Describing Specific Observations
Activity: Practice Delivery, Learning Prioritisation Inventory
Module 5: Evaluation & Performance
 The Importance of Evaluation and Performance
 Assessment Techniques
 Evaluating Learning
Activity: Practice Delivery
DAY FOUR
 Skill Demonstration
 Feedback
 Video recording of Skill Demonstration
On-site & in-house training
Deliver this course how you want, where you want, when you want – and save up to 40%! 8+ employees seeking training on the same topic?
Talk to us about an on-site/in-house & customised solution.