overview
Key Learning Outcomes
Key trends and drivers of digitalisation and standardisation in container shipping
Fundamental technology ecosystem of smart containers
Development models for connected supply chains using smart containers
Container terminal optimisation through RPA, AVs, smart cranes and many more
End-to-end container logistics planning
Advanced analytics and applications on smart container vessels' operations
E-commerce services in container shipping
Data standards initiatives and cybersecurity for container shipping
Document control and automated transaction
New Case Studies & Group Exercises Including
IoT sensors, connectivity & communication in smart containers
Container logistics demand forecast & capacity allocation
Electronic Bills of lading
Smart operations on container vessels
Cyberattacks and mitigation strategies
 Who Should Attend
This programme offers practical benefits to IT executives and non-technical decision-makers in container shipping industry who require immediately actionable understanding of the technological ecosystem and how to effectively manage digital projects, including:
Ship managers/operators
Vessel owners
Port & Terminal operators
Marine service providers
IT & Security
Digital & Innovation
Commercial Operations
Directors of Operations, Finance and Logistics Planning
Ship developers, Naval Architect
Project management
Terminal Infrastructure
Captain
Trainer
Lars Jensen
CEO
CyberKeel/SeaIntelligence Consulting
Lars Jensen has over 20 years of experience from inside the shipping industry. This covers a combined period of 8 years as Director of Driving and Developing Market Intelligence & Analysis for Maersk Line, Maersk Logistics and The Containership Company. Lars had, in addition, 2 years acting as CEO of the purely online container carrier Youship, as well as in charge of developing and implementing e-Commerce strategy in Maersk Line.
Since 2011, Lars Jensen has acted as an independent strategic analyst, advisor and thought leader in the container shipping industry with customers including container lines, ports and terminals, universities as well as innovative digital and IT companies in the shipping sector. Lars Jensen is CEO and Partner of SeaIntelligence Consulting, focused on providing expert assistance in strategic decision making, analysis, process improvement and revenue management in the shipping sector. Additionally,
Lars Jensen is the co-founder of SeaIntel Maritime Analysis founded in 2011 and focused on providing impartial as well as actionable market intelligence for the container shipping industry. The intelligence is often used by all market participants from carriers and shippers to ports and financial institutions.
He is also the CEO and founder of CyberKeel (now Infospec ApS), providing cyber security assessments onshore and on-vessels as well as assist in improving cyber security readiness. In 2016 Lars Jensen co-founded LinerGrid providing advanced tools to optimise network design for container carriers and also joined the board of the New York Shipping Exchange.
Lars Jensen is a recognised thought leader on strategic developments in the liner shipping industry and is often invited as a speaker at international shipping conferences. Additionally, Lars has designed and delivered executive training courses for the Maersk Line Shipping Education as well as tailor-made training courses for individual companies and is acting as both teacher and coach at the Maritime MBA at Copenhagen Business School.
He is the co-founder of LinerGame which is focused on providing innovative training and teambuilding in the liner shipping industry. He is also the author of the book "Culture Shock in Maersk Line" outlining the changes in the world's largest container line over the past 15 years and "Liner Shipping 2025" focusing on the changes to come in the industry and how carriers, terminals, shippers and forwards should navigate to be successful.
Digital Badge
Upon completion of this training course, participants will earn a digital badge.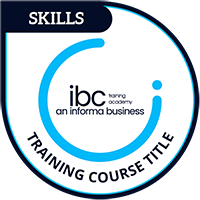 Earners of this badge have acquired practical and immediately useful knowledge of key trends and drivers in digitalising & standardising container shipping. Starting out with a focus on the smart containers ecosystem, attendees will examine container logistics optimisation through the development of terminal automation, smart technologies in vessel, end-to-end container logistics planning, e-commerce services in container shipping and data standard initiatives. They will become essential in their organisations in driving forward cost-effective digital, connected supply chain innovation
Skills:
container shipping, smart container, end-to-end logistics, RPA, automated vessels, smart cranes, e-commerce, IOT, electronic bill of lading, cyberattacks, connected supply chain, data management, network connectivity, intelligent storing systems, mass deployment, automated gate, automated port calls, smart warehouse
Eligibility:
Attend and participate in the 2 full days of training course duration, led by the designated training expert
Available to:
Seminar attendees
Agenda
TRENDS & DRIVERS FOR DIGITALISATION IN CONTAINER SHIPPING
Drivers of digitalisation and standardisation
Impacts of transparency from digitalisation
The 5 elements of a digital shipping future
Imperative for success
SMART CONTAINERS
IOT sensors, GPS, RFID
Connectivity & communication: LPWAN, 5G, network handover
Data analytics: cloud-based solutions
Power consumption and service continuity
CONNECTED SUPPLY CHAINS
The supply chain interdependency, process transparency and supply chain visibility
Real-time Container visibility (track & trace)
Capturing end-to-end supply chain data
Transport notification & delivery of goods
Container condition monitoring & cargo inspection
Cost-benefit analyses

Data management: Integration, quality & governance across the supply chain
Analytics capability and forecast functions: demand, rate
CASE STUDY: MASS DEPLOYMENT OF SMART CONTAINERS & THE COLLABORATION MODELS
Parties involved: shippers, NVOCCs, freightforwarders, terminals, carriers, importers/exporters
Sensor technologies employed
Structuring, managing and visualising data
Network connectivity for data sharing
Plot testing
Project budgeting and timeline
OPTIMISING CONTAINER TERMINAL OPERATIONS
Remotely operated cranes & crane automation
Increasing container rack capacity

Intelligent storing systems
Rack design
Robotics and automation Automated terminals

Intelligent gate-in planning
Automated port calls

Autonomous vehicles

Smart Warehouse Process optimisation
Congestion prediction and prevention

Case study: Digitising Port Operations for Container Shipping Information & documentation process with between vessels and onshore stakeholders

Optimise docking sequence and equipment availability
Improve pickup scheduling
CONTAINER LOGISTICS & PLANNING
Empty-container repositioning

Big data and AI applications Dynamic capacity reallocation
Dynamic pricing & revenue management
Demand forecasting

Containers' End-to-end logistics planning
CASE STUDY ON DEMAND FORECASTING & CAPACITY ALLOCATION CONTAINER VESSELS' OPERATIONS
Vessel position and speed tracking
Remote surveying
Cloud-based e-navigation
Vessel routing & network optimisation
Reefer container conditions monitoring
Predictive maintenance
Vessel monitoring: Machinery, energy, bunker consumption
Container operations, scheduling and handling
Advanced analytics applications on vessels' capacity allocation
Intermodal operations
Minimising port stays
Autonomous vessels
E-COMMERCE SERVICES IN CONTAINER SHIPPING
E-platform

Digital transaction, E-quotation and cargo condition report
Online booking, online cargo management
Dynamic and instant pricing

E-bill of lading solution
Payment automation
Cargo insurance
Assetless cargo forwarding
DATA STANDARDS
Data-sharing protocols and standards initiatives
Automatic identification systems (AIS)
Application programming interface (APIs), Electronic data interchange (EDI),
Real-time container status
Documentation transmission, IoT data
Shipment tracking standards
Cybersecurity:

Security assurance for customer data
Security assurance for automated operations
DOCUMENT CONTROL AND AUTOMATED TRANSACTION
E-bills of lading
Blockchain-enabled document workflow
Marine insurance blockchain platforms

Multimodal freight transport

Payment & billing automation
On-site & in-house training
Deliver this course how you want, where you want, when you want – and save up to 40%! 8+ employees seeking training on the same topic?
Talk to us about an on-site/in-house & customised solution.