overview
 Key Learning Outcomes
Understand the roles and duties of the ship and port agent
Apply relevant maritime conventions and regulation to port agency
Undertake vessel operations for ship agent: pre-arrival, in-operations and post-departure
Understand finance and liabilities of the agent in relation to ship operator, ships' crew, cargoes' owners and the port authorities
Identify charter party and cargo documentation essential to a vessel call
Assess the impact of e-commerce, electronic bills of lading on agency operations
Examine contemporary issues impacting the ship agency industry
Understand new port regulations with significant impacts on agents' roles
Competitive pricing and value-add strategies for agencies
 Who Should Attend
Shipping professionals and anyone interested in the maritime sectors wishing to learn more about the roles of the agents
Port agency
Cargo agency / cargo brokers
Shipowners' / charterers' agents
Ship managers
Freight forwarders, 3PLs
Husbandry agency
Marine services
Shipbrokers
Charterers
P&I Clubs
What Participants Liked About Our Maritime Courses
"Thanks to the course I've gained better understanding of the shipping industry, the rules and practices, which allow me to better shape policy recommendations. The trainer shared great case studies and participants were most interactive"
– Jonathan Lee, Manager – Policy, Maritime and Port Authority (MPA)
 "Trainer is well spoken and has a lot of knowledge and experience. I learned a lot about bills of lading as well as the differences between UCP500 and UCP600"
– Ang Boon Peng, Accounting Executive, Dava
"The programme helps me learn a lot more about the laws governing charterparties, the functions of a ship brokers as well as responsibilities of owners/charterers in the charterparties"
– Yusuf Shah, Bunker Trader, Integr8 Fuels
"The programme was very well presented and prepared. Trainer provided a broad range of relevant examples on the given issues"
– Liu Xu Dong, Senior Operations Manager, Nova Carriers
Digital Badge
Upon completion of this training course, participants will earn a digital badge.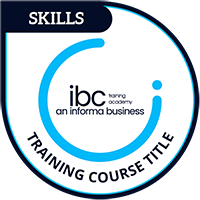 Earners of Ship & Port Agencies have acquired comprehensive understanding of the contemporary functions Ship/Port Agents play in the modern shipping industry. They have practical skills in analysing various cargo documentations; understanding finance, accounting & credit management; strategising vessel operations from pre-arrival, in-operations to post-departure, assessing key impacts of emerging regulations, e-commercial & digitalisation on value-add business models; and comprehending legal aspects & professional indemnity associated with ship/port operations.
Skills:
ship agencies, port agencies, ship agents, port agents, cargo documentation, bunkering, e-commerce, digital innovation, pricing, claims handling, marine services, bills of lading, customs clearance, safe port, safe berth, manning, crew management, shipping regulations, account management, owner-agent agreements
Eligibility:
Attend and participate in the 2 full days of training course duration, led by the designated training expert
Available to:
Seminar attendees
Trainer
Paul Black
Principal Consultant
Paul Black Advisory
Paul has been in ocean transportation for nearly 40 years and has led & consulted ports, shipping lines, 3PL, ship & port agencies and freight forwarders globally. His leadership experience includes Business Acquisition, M&A and JV deal-making, negotiations; Regional business planning & budget management; Agent Network oversight & optimisation; International Market Entry; P&L, management and development of Shipping lines. Some of his notable experiences include
Rebuilt a shipping agency (Kuwait), diversified the company into Freight forwarding, tramp agency, chandlery and instigated CMA-CGM JV
Acting Managing Director (Asia) for SBS Worldwide (now DSV), managing regional business plan, budget, agent network, market entry, JV pan-Asia (Singapore, India, China)
Advised regional 3PLs on valuation, capital structure, M&A and reorganisation (Singapore, Indonesia, Thailand, Vietnam)
Advised Drewry on logistical consultancy projects in Asia Pacific
Origination, due diligence, negotiationand implementation of M&A, JV, BOT Port investments in Americas, Europe, Africa and Asia for PSA International
Advised Sokhna Port Development company and APL agents on contract logistics
Turnaround strategy, process engineering and oversight of agent network and performance Harrison Line, Al-Bahar & Sons, Hellmann Worldwide Logistics, FedEx
Agenda
SHIPS AND THE MARITIME ENVIRONMENT
Ship features and types of carrier
Types of trade and trade routes
ROLES AND FUNCTIONS OF THE SHIP AND PORT AGENT
An overview of port agency, organisational groups/networks and the market
Characteristics of a port agent; global hub, regional and local agencies, liner and tramp
The agent and their principals – the fiduciary relationship
Duties and obligations of agents including; pre-arrival, port operations, post departure, port clearance, ship and crew services and vessel safety
CARGO DOCUMENTATION
Types of charter party and liabilities of parties
The role of the agent with time and voyage charter parties including statement of facts
Key issues relating to liquid and dry cargoes
Crew and cargo documentations

Types of Bills of Lading Distinguishing negotiable bills from straight bills and seaway bills; house, groupage and switch bills
Three functions of the bill of lading: receipt; record of contract of carriage; and document of title
Clean and dirty bills of lading; letters of indemnity
Implied obligations of the shipowner and shipper including declaration of dangerous goods
Complications of transhipment
Clauses that cause particular problems; Incorporation of charterparty terms and arbitration and jurisdiction
PORT AND VESSEL OPERATIONS
When does the ship agent's role commence and end?
Pre-arrival (appointment arrangement, vessel service planning, cargo planning…)
Port operations

clearance and preparation prior to vessel's arrival
bill of lading arrangements and release of cargo
bunkering
crew
labour relations (and the ITF)
pollution response

Port Departure
The agents' responsibilities under Port State Control, IMDG Code and FONASBA
Crew welfare, repatriation and social issues
Cargo handling; containerisation and conventional cargo operations
Ports' regulations for Agencies

Ballast water discharge
Ship inspection & survey
VALUE-ADD STRATEGIES AND COMPETITIVE PRICING FOR AGENCIES
Competition within ship & port agency businesses' dealing
Maximising efficiency through time and motion to ensure a competitive edge
Competitive pricing methodologies using price strategies, cost/ benefit structures and effective negotiations
BUNKERING SERVICES IN THE NEW REGULATORY REGIME
Availability of bunker fuel
Bunker service agreement
Bunker operations scheduling
FINANCE, ACCOUNTING AND CREDIT MANAGEMENT
Financial relationship between agent and principal
Rate structures, fees and margins
Disbursement account management
Port and customs dues, payment of fines
Credit and debt management
Vendor checks and terms of supply
Budgets and reporting
IMPACT OF DIGITAL INNOVATIONS ON SHIP AGENTS
The growth of web-based agents and ERPs
Singapore's Electronic Transaction Acts, Electronic bills of lading and the role of agents
Data interchange and EDI standards
E-COMMERCE IN THE SHIPPING INDUSTRY
Strategies being adopted by liners
Role of agents in the e-commerce chain
Facilitating an e-commerce transaction for a liner
LEGAL ASPECTS AND DISPUTE RESOLUTIONS OF AGENTS AND PRINCIPALS
Introduction to shipping and maritime law

Owner-agent agreements Managing the General Agency Management contract

Joint and several liability between ship agents, ship managers and their principals
Singapore's local law vs port statute (statutory liabilities)
Examples of claims

Cargo claims
Freight tax payment
Customs duty and penalties
Wrecks removals
Oil pollution
Safe berth/safe port
Dock damages
Commercial debts

The agent's liability across jurisdiction (Singapore, United Kingdom, Philippines, Taiwan, etc)
PROFESSIONAL INDEMNITY INSURANCE FOR SHIP & PORT AGENTS
P&I cover and marine accident investigation following an incident
Professional Indemnity insurance; what is covered and how to claim

Ship arrest and release; the agent's role The 1952 and 1999 Convention on the arrest of ships
Admiralty court jurisdiction and procedure
Ship arrest and the Brussels Convention
Sister ships and associate ships
Judicial sales
Litigation and interlocutory orders
Ship arrest and the agent

Principles of General Average
when & where
17 - 18 Oct 2019
Mandarin Orchard Singapore, by Meritus
333 Orchard Road, Singapore 238867
Tel: +65 6831 6062 | Fax: +65 6737 3130
Mobile No.: +65 8298 9442
Contact Person: Tan Ai Li
(Assistant Director Of Business Development, Catering Sales)
Email: aili.tan@meritushotels.com
Website: www.meritushotels.com
On-site & in-house training
Deliver this course how you want, where you want, when you want – and save up to 40%! 8+ employees seeking training on the same topic?
Talk to us about an on-site/in-house & customised solution.