overview
Key Learning Outcomes
Introduction to Laytime
Introduction to Demurrage and Despatch
Shipowners' and charterers' duties
When does the clock start to tick?
Safe ports and berths and anchorages
Arrived ship, Notices of Readiness
Statements of Facts
Notes of Protest
Charter party clauses
Time bars
Who Should Attend
Participants will be expected to have little or no prior knowledge of Laytime
Ship owners and managers
Charterers including Importers, Exporters and Traders
Shipbrokers
Port and ship agents
P&I personnel
Logistics and shipping professionals
Legal advisers, solicitors and barristers
Government bodies and representatives
What Past Delegates Liked About This Course
"The speaker has the shipping/commercial background, the topic is relevant to my daily work"
~ Yang Jiu Qing, GM, IMC Shipping Co Pte Ltd
"There is a lot of discussion among the participants. The trainer displays a lot of knowledge and is generous to share"
~ Jaslyn Ho, Planner, Sumitomo Chemical Asia Pte Ltd
Trainer
 Jeffrey Blum
Jeffrey Blum's involvement in shipping and trading spans over 45 years. He is the fourth generation of a shipping family, has been an active member of the Baltic Exchange since 1976 and has worked with a Lloyd's underwriter and as a shipbroker, ship owner and operator, gasoil futures broker, charterer and commodities trader in London and abroad.
He achieved Fellowship of the Institute of Chartered Shipbrokers by examination in 1979 and since 1983 has served on the ICS International Controlling Council, the International Membership Committee and the UK & Ireland Zone Committee. He has served on the London & South East Branch Committee since 1983, including its Education Officer 2000 – 2015, Chairman 2005-2007 and Vice Chairman 2015-2017. Jeffrey has been a Fellow of the Chartered Institute of Arbitrators since 1997 (Associate since 1979), is an active Supporting Member of the London Maritime Arbitrators Association (LMAA) and has been an arbitrator (both sole and tribunal) since 1994 and an expert witness since 1983. He has been on the controlling council of the International Commodity and Shipping Arbitration Service (ICSAS) since its creation in 2005.
Since 1984 he has been lecturing on maritime commercial subjects and law at universities and colleges throughout the UK. Since 2002 he is the founder director and principal lecturer of METL (Maritime Education & Training Ltd), a college in central London which prepares examinees for the ICS worldwide exams in eight core subjects. Since 2007 he is a Visiting Professor at the UN IMO's World Maritime University in Malmo and at the Shanghai Maritime University and is a frequent presenter at conferences and masterclass workshops worldwide. For many years he has contributed to trade magazines and books and is currently editing the 12th edition of a long-established textbook on Chartering. Jeffrey provides maritime and commodities commercial claims consultancy and training through Interlink International Trading (UK) Ltd which he founded in 1994. His clients include oil majors, commodity traders, shipowners, P&I Clubs, shipbrokers, law firms, banks, governments and international shipping organisations.
Digital Badge
Upon completion of this training course, participants will earn a digital badge.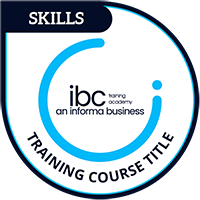 Earners of Dry Cargo Laytime & Demurrage Certificate have acquired advanced-level understanding of managing laytime calculations and profitable approaches in handling demurrage claims within the dry bulk shipping business. Through global case studies shipping industry, they are capable of anticipating and minimising claims risks associated with dry cargoes and how to profitably apply performance and various other charterparty clauses.
Skills:
charter party, drafting, clauses, dry cargo laytime, demurrage, claims handling, payment of hire, off-hire clauses, deviation, performance, employment orders, paramount clauses, negotiations, voyage charterparty, time charterparty
Eligibility:
Attend and participate in the 2 full days of training course duration, led by the designated training expert
Available to:
Seminar attendees
Virtual Learning
Benefits of Virtual Learning
Aimed at offering you immediate, high-quality practical information whilst minimising time and expenditure associated with travelling, our digital training platform enables you to interact in real time with course directors and remotely network with your fellow participants.
Progress through the course with fellow participants as you would in a classroom
Conduct Q&A with course directors in real time
Effectively achieve learning objectives with minimal disruption to your busy schedules
Maximise cost saving with reduced travel and discounts for online participation
Earn your Digital Certification and broadcast your achievements to your peers
Deploy new age interactive tools to learn more from fellow participants
Agenda
REVIEW OF LAYTIME AND DEMURRAGE
Allocation of risk for delay between owners and charterers
Definition of laytime, demurrage and despatch
Types of Laytime

Fixed time
Tons per hour/per hatch
Custom of port
START OF LAYTIME
Arrived ship
When does it start?
What suspends time?
When does time stop running?
Notice of Readiness (NOR)
START AND STOPPAGE OF DEMURRAGE
Start of demurrage
Suspension of demurrage
CALCULATION OF DRY CARGO LAYTIME
Types of dry cargo laytime – reversible, averageable, non-reversible
Working days and running hours
Laydays, early loading clauses, virtual NOR and late arrivals
Explanation of terms

» WWD / WDWP
» WIBON / WIPON / WIFPON / WECCON
» SHINC / FHINC / SHEX / FHEX

Breakdown of different types of machinery
Laytime per working / workable hatches
Damages for detention
Notice periods, turn times
Interruptions and exceptions
Pro rated time for part cargoes
Shifting and multi berth discharges
Other issues affecting the calculation of laytime
LAYTIME AND DEMURRAGE CLAUSES
Different charterparties and NOR clauses
Weather clauses
Practical considerations

» Letters of protest
» Dry cargoes focused clauses
DEMURRAGE CLAIMS MANAGEMENT
Main stages
Key clauses in contracts which can affect claims
Securing a settlement
Enforcement options
CASE STUDY:
A recent laytime and demurrage case will be presented and analysed to give participants a better appreciation of common problems and practical issues arising with Dry cargoes. Specific clauses will be reviewed.
Participants are encouraged to provide alternative solutions to the cases presented and are requested, and requested to send their claim stories latest 1 week prior to this Workshop for general practical and legal discussions (anonymous if preferred).
THE COMMERCIAL CONTRACT TERMS AND CHARTERPARTY CLAUSES
Relationship between the two – with examples
Traders' General Terms and Conditions
PROFITABLE USE OF LAYTIME AND DEMURRAGE IN NON-TRADITIONAL WAYS
Delaying loading
During the course of the voyage
Delaying discharge
HANDLING LAYTIME & DEMURRAGE CLAIMS AND DISPUTES
Time bars
Which documents are essential
Dispute resolution methods – and reasons for choice of arbitration or mediation or litigation
On-site & in-house training
Deliver this course how you want, where you want, when you want – and save up to 40%! 8+ employees seeking training on the same topic?
Talk to us about an on-site/in-house & customised solution.