overview
Focusing on hot-buttoned issues surrounding digitalization projects within shipping industry, this masterclass offers hands-on approaches to productivity optimisation,cost-saving measures, effectiveness of implementation and most importantly how technology can maximise bottom line. By thoroughly examining real-world case studies and latest developments, you will gain practical understanding of digital ecosystems and what are appropriately applicable to your organisations. These include digital transformation in vessel predictive maintenance, repair & fleet performance; downtime & cost reduction; navigation and safety; energy optimisation; integration between ships and seaport operations and across logistics supply chain; remote cargo management and many more.
Through attending this course, you will not only acquire clear vision of digital transformation in shipping industry, but also practical skills required in transformation projects, including financials & metrics, building business case, stakeholder managements and project mapping.
Key Learning Outcomes & Case Studies Include
Up-to-date insights into digitalisation ecosystem and investments within Shipping industry
Review business case, roadmap, technology and stakeholders for digital strategy
Practical applications of big data, cloud, blockchain, predictive capabilities, standardisations and impacts to shipping
Digitalisation across cargo supply chain: remote monitoring, tracking and integrated logistics
Applying digital transformation in maintenance, dry-docking, repair and fleet management
Digital applications in navigation and safety
How to optimise integration between ship and seaport operations
Improve energy efficiency, compliance and smart emission management
Exercise with financial metrics and assess ROIs of digital projects
Assess cyber threats and build enhanced security
Who Should attend
Shipowners and operators
Shipbuilders, shipyards
Shipping lines & carriers
Maritime technology providers
Ship agents
Port & Terminal Operators
Trainer
Dr. Jasper Boessenkool
Independent Advisor – Technology, Innovation
Digitalisation Strategies
Jasper has over 20 years' experience developing technology roadmap & strategic developments for various business disciplines specifically for maritime sectors, ranging from cashflow analysis, post-merger & acquisitions integration to projects' big data analytics and technical business developments.
He's offered innovation valuation for port technologies, container terminal and shipping operators across the world; and had led Innovation & Future Technology at Maersk Maritime Technology, responsible for monitoring emerging technology, impact assessments and kickstarted multimillion dollar projects including big data analytics, AI, predictive maintenance, fleet upgrades and LEAN innovation process that led to multitude of cost saving.
Led a Maersk Drilling project on Big Data Analytics and Predictive Maintenance, identifying USD 100-150 million annual cost saving and strategic implementation roadmap.
Drove Maersk's participation to establish joint industry collaboration of USD 7.5 million, 15 innovation projects and 40 strategic suppliers and universities
Redesigned and implemented LEAN innovation process to focus and align innovation activities
Assess global port operators' strategy, future needs and identify innovation opportunities at corporate level
Developed strategy of the expansion of the Port of Busa (South Korea), based on a benchmark of value-added logistics activities of the ports of Rotterdam, Singapore and Shanghai.
Digital Badge
Upon completion of this training course, participants will earn a digital badge.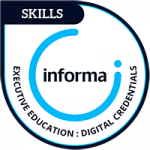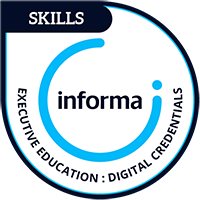 Eligibility:
Attend and participate in the 2 full days of training course duration, led by the designated training expert
Available to:
Seminar attendees
Agenda
DIGITALISATION & DIGITAL INNOVATION IN SHIPPING
How is digital innovation different?
Developments in maritime
Digital ecosystem in shipping
Parties involved and impacted
Investment trends
The touchpoints – operations,
logistics, onboard, terminals
The role of VCs
Technology transfer strategies and
open innovations
MAPPING OUT A DIGITAL STRATEGY
What is a digital strategy?
Decision-making objectives in digital projects
Digital strategy and "breakthrough innovation"
The role of the Chief Digital Officer
How to organize and implement digitization in shipping
Developing the digital ecosystem
Barriers to adoption
DIGITALISATION OF GLOBAL TRADE AND POTENTIAL FOR MARITIME INDUSTRY
Cross industry collaboration
Next steps in cargo documentation
Blockchain applications in shipping
Opportunities and challenges for block chain in shipping
Examples: Tradelens, BLOCK, GSBN, etc
DATA, PREDICTIVE ANALYTICS, AND LATEST APPLICATIONS
Standardisation and regulation (i.e. IHO, IEC standards)
Cloud services for vessel (procurement, crewing, performance optimisation)
Sustainable connectivity solutions and impacts on shipping
Radar, GPS, sensors, satellites, LIDAR, etc
SMART LOGISTICS – DIGITALISATION IN CARGO SUPPLY CHAIN
Port services and cargo redistribution
End-to-end cargo tracking and monitoring
Increase cargo capacity
Remote cargo management
Data interoperability standards
Cargo owners, terminals, shippers and agents collaboration
Examples: Intra (multi-carrier platform), Pronto (port of Rotterdam)
DIGITAL TRANSFORMATION AND SHIP MAINTENANCE
Present issues with maintenance & repair budget management
Data-driven condition monitoring
Vessel performance indicators
Predictive maintenance and downtime reduction
Component lifetime extension
DIGITAL APPLICATIONS IN NAVIGATION AND SAFETY
IMO MSC 101 (2024)
Electronic navigational charts
Electronic navigation tools
Collision avoidance
Connected ports & vessel traffic centres
Voyage planning, vessel routing & execution
AI-driven navigation
Propulsion monitoring, Fuel efficiency and optimisation (e.g. SimBunker)
Examples: Twill, xChange, etc
Case study: Smart Ships and Smart Fleets – Using Ship-specific Data Collection and Large-scale Fleet Management Systems
CONNECTING SHIP AND SEAPORT OPERATIONS
Real-time data

Passage planning, vessel traffic optimisation

Sea Traffic Management and PortCDM
Port call coordination and synchronization
Artificial intelligence in real-time port operations platforms (e.g. Awake.AI, Silo.AI)
Berthing and mooring
SMART SHIPS, ENERGY AND EMISSION MANAGEMENT
Fuel consumption and energy efficiency assessment
Energy management systems
Requirements for onboard facilities, sensors and onshore portals
Regulatory compliance and automated reporting
CYBERSECURITY REQUIREMENTS FOR SHIPPING
Threats/attacks to IOT systems, navigational systems aboard vessels and onshore
Global cyber security approaches
Shipboard products and varying levels of cyber risks
Cyber initiatives for retrofits and newbuilds
Vessel cybersecurity verification, certifications
VALUE, FINANCIALS AND METRICS OF DIGITALISATION PROJECTS
Value of digitalisation: efficiency, value and platforms/network effects
Cost of digitalisation: CAPEX and OPEX considerations
The business case, metrics and ROI
Selling digitization internally & stakeholder management
THE FUTURE OF DIGITISATION: TRENDS AND NEW DEVELOPMENTS
Emerging technologies and impacts: AI, Cloud, Drones, Additive Manufacturing
Implications to your organisation
On-site & in-house training
Deliver this course how you want, where you want, when you want – and save up to 40%! 8+ employees seeking training on the same topic?
Talk to us about an on-site/in-house & customised solution.