overview
Key Learning Outcomes
Understand the different types of CRO contracting models
Discover the right tools to evaluate and select CROs
Identify GCP and budget requirements
Learn how to prepare an effective Request for Proposal (RFP)
Measure CRO performance using metrics and KPI's
Communication and relationship management for CRO/Sponsor
Develop a strategic approach in dealing with changes in scope in an on-going project
Dedicated Exercises and Case Studies on:
Setting CRO charge-out rate
Making CRO reports a tool to help you manage
Worked example of drafting a vendor oversight plan
Analysing a CRO budget
Developing a CRO selection grid and setting objective choice criteria
Creating an RFP
Who Should Attend
Clinical Outsourcing
Clinical Operations
Project Management
Contract Management
Clinical Quality Control
Finance / Purchasing/ Project Controlling
Medical Affairs
Procurement / Purchasing
Strategic Sourcing
Program/Portfolio Management
CRO Administration and Management
Trainer
Peter Motteram
Director
ProActive Study Management
Peter Motteram is Director of ProActive Study Management with offices in both London, UK and Boston, US. He has been in the industry for over 30 years and has spent the last 18 years consulting with companies on their clinical trials strategy, project management and CRO outsourcing. He has a wide range of experience with different types of clients operating in territories around the world, including Asia.
He originally trained in biochemistry at the Universities of Birmingham and London, and after working in a London teaching hospital, he started his pharmaceutical work at Sterling Research Group as GCP Quality Assurance auditor. He moved to Quintiles, first founding their Quality Assurance department and then leading and developing their Business Development group outside US. As General Manager of ClinTrials Research, Peter had responsibility for offices in the non-Americas regions. ClinTrials Research was at that time the third largest global clinical trials CRO and was the first to do an IPO.
Since founding ProActive Study Management, a significant component of Peter's work has been in running training courses, both public and tailored to in-house needs.
Digital Badge
Upon completion of this training course, participants will earn a digital badge.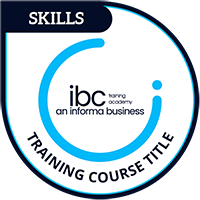 Earners of this badge have acquired thorough practical understanding of contracting and overseeing CROs. They have examined various types of contracting models, tools and techniques to quality & select CROs, practical considerations in RFP management, KPIs for CRO performance measurement as well as skills required in dealing with on-going changes in the projects. They have also learned effective communications plan required for sponsor/CRO relationship
Skills:
CRO, contract research organisation, request for proposal, RFP, budget, management, communications, documentations, contract, oversight, timeline, clinical outsourcing, contract management, clinical operations, patient recruitment, project management, medical affairs, programme management, portfolio management, cro administration
Eligibility:
Attend and participate in the 2 full days of training course duration, led by the designated training expert
Available to:
Seminar attendees
Agenda
SPONSOR PERSPECTIVE OVERVIEW
Regulatory expectations
Business expectations
Project Management of the CRO
OVERVIEW OF WORKING WITH A CRO
Current CRO business model
Types of Contracting Models
Contract versus project management
Overview of CRO Management Steps

RFP
Contract
Oversight
Change in Budget and/or Scope
OVERSIGHT
Knowing the status and health of your project
Measurements, KPI's, reports,
Documenting CRO tasks and responsibilities
Vendor oversight plan
SPONSOR/VENDOR COMMUNICATION
CRO Meetings
Effective communication plan
Mode of communication
Feedback and resolution
CRO QUALIFICATION ANALYSIS
Criteria during selection phase
Elements of a contract

Fees – how to review the budget
Use of a standardised bid grid
Services
Legal

Evaluation of different selection tools

Bid defence meeting
Qualification visit or audit
Standardised questionnaire
REQUEST FOR PROPOSAL (RFP)
Basic elements
How your selection criteria, anticipated relationship and oversight affect your RFP
Use of feasibility studies
ON-GOING CHANGES IN THE PROJECT
Dealing with changes in scope and/or requests for more resource
Budget tracking and renegotiation
TYPES OF SPONSOR CRO RELATIONSHIP
Preferred provider model
Single provider model
Relative size of Sponsor and CRO
CASE STUDIES THROUGHOUT
On-site & in-house training
Deliver this course how you want, where you want, when you want – and save up to 40%! 8+ employees seeking training on the same topic?
Talk to us about an on-site/in-house & customised solution.