overview
Key Learning Objectives
Understand the aspects of contract administration that impact claims and disputes
Establish what issues/claims are and when they occur
Properly identify potential contract issues
Ensure claims are properly presented and supported by relevant facts
Establish how claims should be quantified and valued
Understand what contractual requirements are in relation to claims
Determine an effective claims management procedure
Understand obligations when assessing claims
Discover specific negotiation and behavioural skills to reduce the amount of time and energy spent on claims
Understand the possible behavioural outcomes and learn an approach to avoiding negatives
Gain insights into the nature of the various approaches to contractual dispute resolution
About the Course
How many times have legitimate claims for money and/or time been overlooked or rejected because they have not been identified or substantiated?
This practical course is based around carefully designed case studies that highlight what should happen, where people have gone wrong and best practices that you can utilise. It aims to ensure your issues are identified, managed and agreed within the restrictions imposed by any agreement or contract.
Where the contract or agreement provides little or no guidance regarding claims or disputes, the course will discuss what options are available, and how they should be implemented.
The management of contract issues includes a number steps which should be followed to ensure the best possible outcome is achieved. Therefore, the course will consider what information is required to properly substantiate and justify entitlement.
The course will also look at how that information should be presented, what methods of evaluation are available and when to use them. It mixes updates in theory and concepts with practical wisdom.
Who Will Benefit
This practical masterclass is based on testing, applying and refining one's knowledge with real scenarios. It launches immediately in to applying the instructor's expert knowledge and insights into tricky, complicated claims and disputes. It is structured around case studies.
It will benefit anyone working in the building, construction, engineering, production or supporting industries who is involved with the administration and management of contracts, from the principal or contractor side.
How In-house Training works?
Interested in exploring how our In-house Training works?
Cost-effectiveness aside, one of the biggest benefits to our clients of in-house training is the opportunity to customise and tailor the content, delivery method and exercises of a training course to their exact needs. In order to achieve this, we follow a collaborative approach to bring the client & the trainer together to explore needs, shape content and define outcomes.
This video will give you an insight into the process and how bespoke courses are achieved. For more information please contact Holly on +61 (02) 9080 4454 or email training@informa.com.au.
The CMP Certification Framework
The CMP provides a robust method of up-skilling and recognising an individual's expertise and experience in contract management and procurement. Our combination of in-class teaching, facilitation, knowledge based testing and workplace evidence based examinations has been carefully crafted to not only teach knowledge and skills, but to also demonstrate how individuals can apply their knowledge to work based situations. This Certification is recognised by IIBT and IACCM.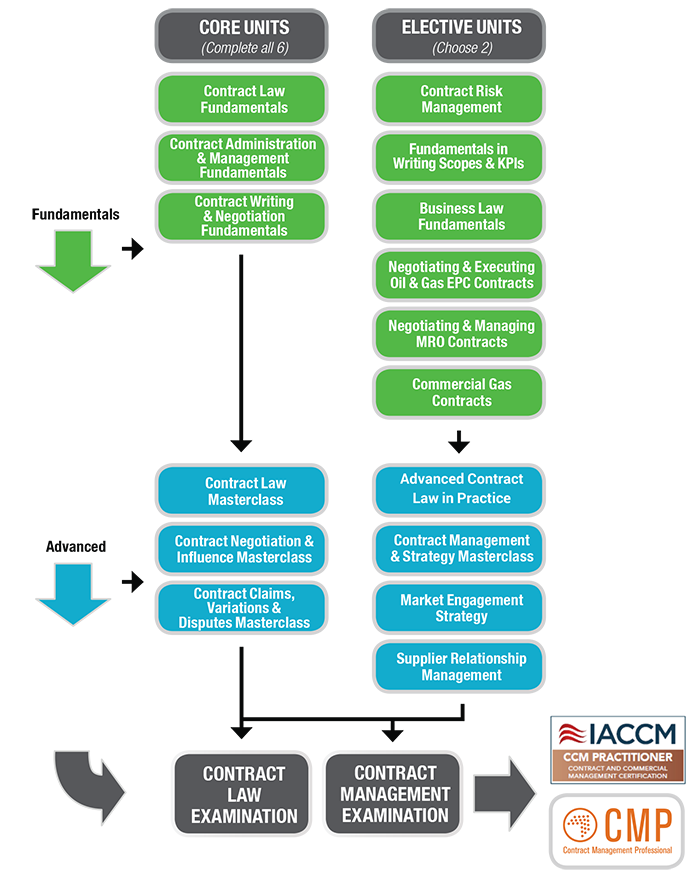 Informa Corporate Learning is a Learning Partner of the International Association for Contract and Commercial Management (IACCM), which promotes the international standards and practices for defining and managing trading relationships.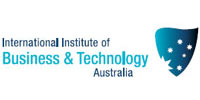 The International Institute of Business & Technology Aust (IIBT) is a highly respected, Government approved, Australian provider of higher education and VET programs. Their suite of programs includes a University level Diploma of Business Administration, equivalent to the first year of a business related undergraduate degree at Australian Universities.
THE IIBT / INFORMA CORPORATE LEARNING ALLIANCE
IIBT and Informa Corporate Learning joined together to provide a pathway for those who complete Informa's CMP at the Master level. All CMP Masters will receive Recognised Prior Learning (RPL): 2 units of credit in the 12 month, Higher Education, University level Diploma of Business Administration.
Business Law (BL101)
Management in Organisations (MGT101)
*This is a Higher Education Diploma equivalent to first year university NOT a Vocational Education Diploma.
Click here for more information.
Testimonial
"This course brought together a lot of knowledge I had but now will give me the ability to act more confidently in my role in contracts."
Contracts Specialist, Woodside
Watch webinar
Our expert course trainer Sean McCarthy delivered an insightful webinar on "Using & understanding contracts as tools for ensuring deliverables".
You'll learn:
 Overcoming some of the common challenges associated with managing contracts
 How contracts act as tools for achieving set outcomes across deliverables or projects
 The importance of contract interpretation and building confidence in dealing with contracts
Agenda
Review of key contract administration elements (and contract provisions regarding contract administration) that can impact claims
The concept of Privety
Terms of contract versus conditions of contract in the claims process
Waiver versus forebearance
Order of precedence
Other relevant points
Review of claims and the claims process
When do claims arise?
Most common claims relating to costs and or time
Basic/complex claims
Common subject of claims (non or part payment of variations/late payment/D&D/poor or inadequate contract documents etc)
Discussion
Comparing and contrasting claims and how they could have been avoided in the first place
Claims management
Collect and review data regularly
Highlight potential issues as they arise
Identifying specific claims
Following the timing within the contract/or be reasonable
Issue with applications for payment
Maintain communication to achieve agreement
Activity: How should a potential claim be handled?
Workshop
Troubleshooting a complex, multifaceted construction industry claim – learn from what went wrong, and how the 'impasse' was eventually satisfactorily resolved:
Consider entitlement – is it reasonable?
Issue notices in accordance with contract
Can it be valued using the contract?
If contract is not an option what basis can be used (discuss alternatives)
Supporting documents
Activity: What should be considered when valuing claims?
Case study: Best practice management of defects – the contractual remedies and the practical procedures for ensuring they are realised
Claims assessment
Consider entitlement
Sufficient information
Basis of calculation reasonable
Comply with contract when notifying (ref: Construction Contracts Act)
Can claim be passed on – if so is further info required
Addressing disputes
Various approaches to dispute resolution process
Explanation of the various steps of the process
The contract administrator's role in each stage
Overview of managing lawyers who are involved in the process
Management reporting of the progress of dispute resolution process
Explaining the various alternatives – Escalation, facilitation, mediation, arbitration litigation etc
Case study: Understanding and resolving an international contracting dispute without lawyers
Claims specific negotiation and behavioural skills
Using 'soft' skills in the context of very 'hard' negotiation circumstances
How to deal with the 'tough guy' in an arising dispute claims situation
Tactics you can expect to encounter when the going gets tough – and how to counter them using both technical tactics and behavioural knowledge
Key principles of the behavioural approach to claims negotiation
Principles of Cognitive Behavioural (self) LeadershipTM in claims negotiation
Activity: Negotiation workshop
In this workshop activity participants will be guided through an exercise based on a 'real life' experience/case study. At the end of each stage of the exercise, participants will be told what happened in the real case. This information will then be used as the basis for progressing through the next stage of the workshop
On-site & in-house training
Deliver this course how you want, where you want, when you want – and save up to 40%! 8+ employees seeking training on the same topic?
Talk to us about an on-site/in-house & customised solution.