overview
Key Learning Outcomes
Understand the components of a clinical research project
Identify the key roles and core competencies needed by a project manager
Learn how to track and interpret project progress
Obtain knowledge on various project management techniques
Know the budget structure and timelines
Assess the use of various tools in project management
Learn effective vendor management
Exercises and Case Studies
How project manager's role varies between companies
Mapping out the sequence of events in a useable format for project management
Working exercise on cleaning clinical data
Practical exercise – how project management can work on clinical operations without running the department
Examples of simple resource allocation and tracking tools from various companies
Doing a clinical trial budget "CRO style"
Who Should Attend
Project Management
Patient Recruitment specialists
Site professionals
Clinical Outsourcing
Clinical Operations
Contract Management
Clinical Quality Control
Finance / Purchasing/ Project Controlling
Medical Affairs
Program/Portfolio Management
CRO Administration and Management
Trainer
Peter Motteram
Director
ProActive Study Management
Peter Motteram is Director of ProActive Study Management with offices in both London, UK and Boston, US. He has been in the industry for over 30 years and has spent the last 18 years consulting with companies on their clinical trials strategy, project management and CRO outsourcing. He has a wide range of experience with different types of clients operating in territories around the world, including Asia.
He originally trained in biochemistry at the Universities of Birmingham and London, and after working in a London teaching hospital, he started his pharmaceutical work at Sterling Research Group as GCP Quality Assurance auditor. He moved to Quintiles, first founding their Quality Assurance department and then leading and developing their Business Development group outside US. As General Manager of ClinTrials Research, Peter had responsibility for offices in the non-Americas regions. ClinTrials Research was at that time the third largest global clinical trials CRO and was the first to do an IPO.
Since founding ProActive Study Management, a significant component of Peter's work has been in running training courses, both public and tailored to in-house needs.
Digital Badge
Upon completion of this training course, participants will earn a digital badge.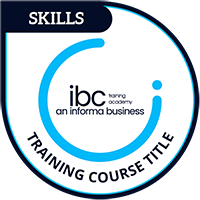 Earners of this badge have acquired advanced-level skills in project managing clinical trials. They understand the right components in composing a project plan, key competencies and roles needed by a project team and the various tools for managing budget structure and timeline. They have learned through real-world case studies and practical exercises how projects are managed across companies, working practices on cleaning clinical data and resource allocation techniques
Skills:
clinical research, project management, clinical trials, clinical outsourcing, patient affairs, patient recruitment, clinical data, portfolio management, cro management, clinical quality control, contract management, cost management, documentation, project control, monitoring performance
Eligibility:
Attend and participate in the 2 full days of training course duration, led by the designated training expert
Available to:
Seminar attendees
Agenda
OVERVIEW
Definition of project management
Areas of influence for a project manager
First steps in forming as project plan
Project management tools: timelines and flowcharting
CONTROLS
Controls and how to control a project
Choosing which items and processes to control
Measurement of a project and monitoring performance
Developing objective criteria for project attributes
Reporting your project's progress and status
PROJECT AND COMPANY MANAGEMENT STRUCTURES
Organizational structures
Assigning responsibility for project operations
Identifying core competencies and developing project team
WORKING EXERCISE: PROJECT MANAGEMENT FOR A CLINICAL TRIAL PROCESS
PROJECT MANAGEMENT TOOLS AND TECHNIQUES
Capacity planning and resource allocation
Conflict resolution
COST MANAGEMENT
Budgets and timesheets
Budget planning and tracking
Budgeting exercise
Managing scope and budget changes
CRO MANAGEMENT
Types of CRO management
Maintaining the CRO's accountability
Reports and how to know what is happening on your project
DOCUMENTATION
Essential documentation required
Approaches to documenting procedures
CASE STUDIES THROUGHOUT
On-site & in-house training
Deliver this course how you want, where you want, when you want – and save up to 40%! 8+ employees seeking training on the same topic?
Talk to us about an on-site/in-house & customised solution.