overview
Key Learning Outcomes
Develop strategic analyses of Pharma industry: competitive environment, management strategies, business modelsmarket dynamics and value chain
Define, measure, diagnose, analyse and mitigate specific business problems
Practical commercial competencies for pharma industry
Managing complex commercial relationship and stakeholders' expectation
Portfolio Management & Optimisation: Gap identification, asset evaluation, and making strategic investment decisions
Product launch, marketing, business development and market access case studies
Analyse business models for successful implementation of digital technologies
Learn how successful leaders drive change in pharmaceutical organisations
Who Should Attend
This 2-day seminar will benefit any executives within Biopharmaceutical value chain who require practical, immediately actionable fundamentals and strategies to excel in their commercial analyses and leadership, including (but not limited to):
C-level, Directors
Business Development
Sales & Marketing
Market Access
Business Analyst
Pricing, Reimbursement & Payer Management
Research & development
Patient Affairs, Public Affairs
Finance Managers
Contracting & Legal Counsel
New entrant professionals
What Delegates Liked About Our Life Science Programmes
"Trainer has great experience & approach to teaching and offers substantial knowledge in end-to-end process for contract manufacturing"
– Christy Oi, Regional Financial Controller, IPSEN Pharma Singapore
"The course enabled me to improve general understanding on Pharma regulations, as well as participate in active discussion with other trainees"
– Chng Kien Peng, Executive Director, Xepa-Soul Pattinson (S) Pte Ltd
"The programme includes good overview information on pharma strategies across the ASEAN region. I enjoyed the global drug trends discussion"
– Shahanar Sulaiman, Deputy Operations Director, Pharmaniaga Manufacturing Berhad
"The trainer was consistently enthusiastic & very knowledgeable"
– Ben Horder, Managing Counsel ,A Menarini Asia-Pacific Holdings Pte Ltd
"Very practical and applicable to my work. Healthy balance between theory and practical implementation"
– Donai Mc Angelo T. Valde, President / Medical Director, Centre Medicale Internationale
Trainer
Tryphena Liau
Co-Founder & Commercial Director
Zerorange Healthcare
Over 20 years in biopharmaceutical industry, Tryphena has held senior commercial leadership at various multinational organisations including Roche, SmithKline Beecham, Pfizer, GSK, Novartis, Leo Pharma and Novo Nordisk.
As a commercial strategist, she's developed and led a range of roles, from portfolio management & product life-cycle management, marketing & commercial effectiveness, market access & public affairs, branding to talent development, overall P&L and regional leadership. As a leader, Tryphena was responsible for the leadership, people management, career development & progression of multinational teams. Tryphena's track records comprise hands-on exposure across the region and with a wide range of pharmaceutical therapies, including
Led Novo Nordisk (Malaysia, Singapore & Brunei) strategies in Brand & Portfolio Development, Market Access, Pricing & Contracting, P&L for diabetes, haemophilia, growth hormone & hormone replacement products
Defined Leo Pharma's strategies for dermatology & thrombosis product launches, inventory management, third-parties management, business development & investment
Led strategic branding, investment, resources allocation, marketing and new product launches for Novartis's portfolio of Hypertension, diabetes, respiratory, osteoporosis & pain, Sandoz-branded generics, and other established medicines
In charge of GSK's product portfolio, branding, marketing execution, new product launches of respiratory, anti-infectives, allergy, urology, thrombosis, cardiovascular & metabolism, branded generics, neurology, psychiatry osteoporosis and many more
Presently the Commercial Director at Zerorange Healthcare, Tryphena leverages her deep understanding of the pharmaceutical industry to help healthcare providers develop patient-centric services through exclusive product promotion strategies (EPP); patient education, engagement & support programmes (PEESP); strategic project consultancy (SPC) as well as digital health solutions (DHS). She helps clients formulate & refine strategies for drug registration, marketing plans, regulatory & medical affairs management, business intelligence & analytics, patient engagement, and many more.
She has led, strategised and managed multinational teams across a range of commercial functions including Product Life-cycle Management, Sales & Medico-Marketing, Business Development, Branding, Market Access, Portfolio and P&L Management, Countries' leadership and Digital Innovation.
Digital Badge
Upon completion of this training course, participants will earn a digital badge.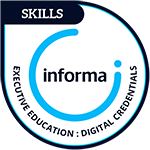 Earners of this badge have acquired advanced-level commercial tools and leadership strategies in managing pharmaceutical organisations. They are proficient at identifying, diagnosing and monitoring business performance problems through which analysing organisation's priority (including portfolio management/optimisation, cross-functional collaboration & change) and maximising the value from commercial alliances including partners and M&A options. They are also thought leaders in developing product launch, market access, go-to-market implementation and P&L management
Skills:
pharmaceutical, business management, commerical, thought leadership, organisational change, stakeholder management, market access, marketing, go-to-market strategies, pharma 4.0, business performance, PESTEL, SWOT, Porter's five forces, risk mitigation
Eligibility:
Attend and participate in the 2 full days of training course duration, led by the designated training expert
Available to:
Seminar attendees
Agenda
STRATEGIC THINKING APPLIED TO PHARMACEUTICAL INDUSTRY
Analyse pharmaceutical value chain and business models
Understanding the pharma market dynamics
Competitive environment analyses (with case study)
Strategic planning & choice
Management strategies in a matrix environment
MANAGING BUSINESS PERFORMANCE IN PHARMACEUTICAL ORGANISATIONS
How is performance defined?
Strategic analyses – key tools

PESTEL, SWOT, PORTER'S FIVE FORCES
Applying the tools to your organisational context (workshop)

Scenario planning & risk mitigation (with case study)
Measuring organisational performance
GROUP EXERCISE: DIAGNOSING SPECIFIC BUSINESS PROBLEMS
BUSINESS & COMMERCIAL MANAGEMENT SKILLS FOR PHARMA INDUSTRY
Cash flows and P&L management
The function of business development
Preparing business cases for investment
Strategic alliances in pharma industry
Partnering strategies
M&A Market and deal making
LEADERSHIP AND STAKEHOLDER MANAGEMENT
Controlling & managing complex commercial relationships
Managing external key stakeholders
Driving cross-functional collaboration
Managing expectations of local and above-country leadership
PORTFOLIO MANAGEMENT AND OPTIMISATION
Identify gaps in product portfolio
Valuation of assets
Access internal candidates against competitors' pipelines
Capital allocation, prioritisation and optimisation
Making strategic choices on R&D investment
Case study: sale forecasts for pipeline candidates and patient-based sales forecasts
Case studies – evaluation frameworks
CASE STUDY – NEW PRODUCT LAUNCH AND MARKET ACCESS
Regulatory considerations
From NPD to commercialisation
Market access & pricing
STRATEGIC MARKETING AND GO-TO-MARKET IMPLEMENTATION
Customer profiles, insights and mapping
Evaluating internal resources & capabilities
Setting key performance indicators
Product promotion
Marketing mix and communications strategies in Pharma sector
Putting strategy into execution
P&L Management
Product life-cycle management • Brand positioning & customer experience
IMPLEMENTING MODELS FOR PHARMA 4.0
CASE STUDY: LEADING A STRUCTURAL REORGANISATION
Planning process for changes
Success factors and tracking progress
Evaluating and learning from changes
On-site & in-house training
Deliver this course how you want, where you want, when you want – and save up to 40%! 8+ employees seeking training on the same topic?
Talk to us about an on-site/in-house & customised solution.