overview
The 2-day Bunker Fuel Blending seminar is aimed at providing participants a technical, introductory and practical guideline on blending heavy fuel oil.
In light of IMO's increased enforcement on bunker fuel's sulphur 0.5% limit effective from 1 Jan 2020, the necessity for ensuring compatibility, stability in fuel oil's quality specifications as well as the importance of optimisation methods have become more evident than ever. Throughout the Bunker Fuel Blending course, expert trainer will enable participants to gain understanding and exercises on:
Blending properties' calculation, pricing & application
Blending components compatibility
Blend control and QA
Optimisation in Bunker fuel blending
Lab testing and Industry standards (ISO 8217, SS 524 & 600, ISO 9001, 17025, ASTM / IP / ISO test methodology etc)
Bunker blending economics and Profit blend optimiser
Blending for sulphur compliance 2020 and the future
Who Should Attend
This course is beneficial for supervisors, managers, senior managers across functions in marketing, trading, economic planning, labs supervision who need better technical understanding of bunker fuel blending – including Fuel oil traders, Bunker operators, Bunker oil trader, Planning engineers.
What Attendees Liked About This Course
"The programme is in-depth offered me a good overview of the IMO 2020, and confirmed my previous understanding."
– Joal Evangelista, Legal Counsel, Vale International Singapore
"Programme's content is well developed, good size of participants, great interactions with trainers and attendees over 2 days."
– Gomes Kevin Mark, Operations Executive – Marine, Singapore Petroleum Company
"A lot of knowledge is shared on blending operations know-how, the calculations and economics as well as legal issues."
– Nakai Kazuki, Trading Manager Marubeni International Petroleum
"My exposure to the bunker industry is well broadened throughout this course."
– Loh Yuan He, Senior Manager, MPA Singapore
"Good overview of the industry relevant to our business. We can apply better calculations in blending and revisit details in our bunker sales T&Cs."
– Henri Sentosa, Managing Director, Trillion Energy
Trainer
Frans van den Berg
Highlight specialties:
Blending operations for LSFO and sulphur compliance 2020
Claims and incident investigations
Developed methods for fuel oil quality measurement (ASTM D7060, FIA Combustion analyser IP541, Filtration test rig, etc)
Fuel oil quality assurance system
Industry standards (ISO 8217, SS 524 & 600, ISO 9001, 17025, ASTM / IP / ISO test methodology etc)
Optimisation in bunker fuel blending; blend control and QA
Exploration & production of heavy fuel oil
Transportation, manufacturing and blending of heavy fuel oil products
In-line blending, lab testing & on-line testing
Frans has 40 years of experience in crude oil, heavy fuel oil and product quality as a senior R&D technologist. He spent the most part of his career at Shell working in a variety of roles, global locations and management positions, directly involved in all elements of the fuel oil supply chain, from manufacturing in the refinery to problem solving for individual bunker fuel customers.
As a senior research technologist, Frans and his team developed new methods for measuring fuel oil quality, such as the Automatic Stability Analyzer (ASTM D7060), the FIA combustion analyzer (IP541, in cooperation with Fueltech) and a filtration test rig. 
In his role as Fuel Oil Technology Manager Frans was responsible for a global team supporting Shell fuel oil operations worldwide; he played a significant role in setting up Shell's Fuel Oil Quality Assurance System, supported refineries and terminals in blending operations and led numerous investigations in claims and incidents.
Most recently, as a Principal Scientist in the Emerging Technologies Group of Shell Global Solutions International, Frans was responsible for scouting and evaluating new developments in Heavy Oil technology in both Upstream (exploration and production) and downstream (transport, manufacturing and blending products) around the world. He held an instrumental role in preparing Shell sites for blending low sulphur fuels for shipping, e.g. for the Pernis refinery and the former Argos terminal (now Varo) in Rotterdam. This also included a study into unusual blending components. He and his team gave input to several editions of ISO 8217, notably on the CCAI parameter, on H2S limits in fuel oil, on flashpoint and on silicon and aluminum specifications.
Frans has given many fuel oil courses to both Shell and non-Shell customers in Europe, the Far East, North and South America, Asia Pacific as well as in Africa. Following his retirement from Shell, Frans joined Petrogenium as Principal Consultant for Residue Upgrading, Crude Oil and Product Quality as well as providing training through his private consultancy Black Oil Solutions, focused on fuel oil, crude oil and residue conversion. His recent fuel oil customers include ARQ, Bayern Oil, McKinsey, PTT, SGS, and Vitol.
Digital Badge
Upon completion of this training course, participants will earn a digital badge.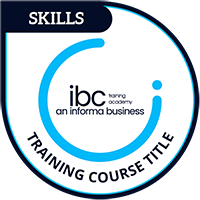 Earners of this badge have acquired practical understanding of technical blending for heavy fuel oil. They have scrutinised various techniques on blending properties' calculation, pricing & application, stability & compatibility, lab testing & industry standard, blending economics and profit blend optimiser, 2020 compliance blending operations as well as quality claims & dispute handling
Skills:
bunker, heavy fuel oil, blending, economics, profit blend optimiser, compliance blending, calculation, pricing, stability, compatibility, in-line blending, MARPOL, iso 4259, claims handling
Eligibility:
Attend and participate in the 2 full days of training course duration, led by the designated training expert
Available to:
Seminar attendees
Agenda
Day 1
General introduction
Brief explanation course program
Various types of blending – overview
Why blending is necessary
Introduction to fuel oil
What is fuel oil, brief history
Manufacturing routes
Supply and demand trends toward 2020
Specifications, components and test methods
ISO 8217 and latest changes
Relevance of individual properties and test methods
Fit-for-purpose versus on-spec
Blend stock components and their properties
Stability and compatibility of bunker fuel
Fundamentals of asphaltene stability
Current test methods
Best Practices and Exercise: Prediction of asphaltene stability
Bunker fuel blending, components and tools
Blending systems (in tank, in-line, in-line with ratio control)

In-line blending – advantages and key considerations
Inventory reduction
Tankage minimisation
Tank capacity and quality management

Linear and Non-Linear blending rules (including exercises)
Unusual blending components
Blending software and equipment
Blend Control and Quality Assurance
Quality management
Documentation
MARPOL Samples
Reproducibility and repeatability of tests
Storage and handling of bunker fuel
Fuel oil tanks
Mixing systems
Additives
Day 2
Laboratories Testing and On-Line Testing
Role of the laboratory (including repeatability and reproducibility)
Discussion of the benefits of laboratory testing and on-line testing
Various types of on-line testing methods
Lab testing standards (ISO 9001, 17025, ASTM/IP/ISO test methodology, SS524 & 600)
Blending economics
Blending tools and optimisation
Single and multi-blend optimisation
Quality give-away
Ensuring the maximum profit from a blend
Blending for 0.5% Sulphur Compliance
Current status
Impact on bunker fuel customers
Impact on fuel oil quality and pricing
Necessary components for 0.5% LSFO Blending
Challenges and problems expected
Ensuring stability and Compatibility
Avoiding off spec fuel from blending operations
Bunker fuel complaints
Survey and updates of fuel oil complaints
Examples of problem fuels (including exercise)
ISO 4259 for dispute handling
Liability and Claims Handling (Guest: Corin Rickett as previous)
Responsibilities for bunker fuel quality
Warranties under bunker supply contract
Contamination of bunkers and blend incompatibility
BIMCO Bunker quality & liability clause
ISO 8217
Potential legal claims (Charterers vs Contractual Bunker Suppliers vs Physical Bunker Suppliers vs Owners)
Claims and claims handling
Bunker supplier defense
Bunker Fuel HSE aspects
Health and safety aspects
Emissions
Legislation
Wrap-up
Q+A session
Course evaluation
On-site & in-house training
Deliver this course how you want, where you want, when you want – and save up to 40%! 8+ employees seeking training on the same topic?
Talk to us about an on-site/in-house & customised solution.