overview
Key Learning Outcomes
Analyse global and regional biosimilars pipeline and growth markets
Understand what biosimilars financiers and sponsors are looking for
Guidelines, approvals and current regulatory challenges in ASEAN
Strategic consideration for success in the biosimilars market in Asia
Product portfolio and product life cycle analyses
Biosimilar drug development strategies
Regulatory approach, pricing and market access case studies
Safety and pharmacovigilance
Legal issues and risk management
Who Should Attend
This course is of practical importance for those involved in product portfolio development, clinical and non-clinical strategies, regulatory affairs, bioanalytics & biomanufacturing, drug safety, risk management & commercialisation
Commercial Leaders
Regulations & Compliance, RA, QA, QC
Clinical Strategy, Senior Research Scientists & Clinical Project Managers
Product Portfolio
Drugs Approval
Medical Manager
Patient safety and Patient affairs
Supply chain
Technical Services
Therapeutic product developer
Regulatory agency
Digital Badge
Upon completion of this training course, participants will earn a digital badge.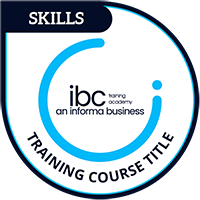 Earners of Biosimilars Certificate have acquired practical understanding of the commercial, regulatory environment in the Biosimilars market essential for analysing global and regional outlooks. They have practical knowledge in the Biosimimlar investment market, regulatory development with in-depth focus in Asia (e.g. GMP, regulatory audit, pharmacovigilance, naming & labelling); pricing & market access strategies; as well as non-clinical and clinical criteria in biosimilar drugs development.
Skills:
Biosimilars, drug development, GMP, regulatory affairs, pharma pricing, market access, clinical studies, non-clinical studies, pharmacovigilance, manufacturing considerations, ROI, investment outlooks, portfolio management.
Eligibility:
Attend and participate in the 2 full days of training course duration, led by the designated training expert
Available to:
Seminar attendees
Agenda
GLOBAL AND REGIONAL BIOSIMILAR CATEGORY ANALYSES
Global markets
Asean, India & China
Pipelines
THE BIOSIMILAR INVESTMENT MARKET
What are financiers looking for?
Where are the investments going?
Getting funding for biosimilars – key considerations
Investment and drug development partnerships
REGULATION AND DRUG DEVELOPMENT
Global regulations and guidelines

EU, US, LA, MENA, ROW Harmonisation or divergence?
Bioequivalence vs biosimilars
Is it working? – Case studies demonstrating uptake and volume increase
ASIAN MARKETS DEEP DIVE – GUIDELINES, APPROVALS AND OTHER REGULATORY MATTERS
STRATEGIC CONSIDERATIONS FOR SUCCESS IN THE BIOSIMILARS MARKET IN ASIA
GMP for biosimilars
Regulatory audit
Product choice
Manufacturing considerations
Cost analysis
In-house or CMO/
Quality comparability – regulatory expectations
Forecasting ROI
BIOSIMILAR DRUG DEVELOPMENT CRITERIA
From Cell line to Drug substance – cell banks
Quality comparability
Non-clinical comparability
Clinical comparability
Safety comparability
Post-marketing safety evaluation
NON-CLINICAL STUDIES
Animal studies
In-vitro biologic comparability
CLINICAL DEVELOPMENT
Phase I PK/PD
Bioanalytical
Safety and efficacy assessment phase III
Post-marketing
Extrapolated indications
Switching / interchangeability
MARKET ACCESS – REGULATORS' CONSIDERATIONS
ASEAN
India
China
Case studies
CASE STUDY: PRICING AND MARKET ACCESS – STRATEGIC CONSIDERATIONS
SAFETY AND PHARMACOVIGILANCE
Evaluation of safety
Immunogenicity
Immunogenicity assays; safety and immunogenicity data

Post-apprvoal safety and PV systems Risk management plan
Pharmacovigilance plan
Post-marketing studies
Real world evidence data
NAMING AND LABELLING STRATEGIES
Propriety names
Identification

FDA guidance on labelling and prescribing information Labelling rules
Biosimilarity statement
Administration, preparation, storage and safety information
Product's proprietar
LEGAL ISSUES AND RISK MANAGEMENT
Regulatory risk
Licensing risk
Speed-to-market risk
GROUP DISCUSSION: KEY SUCCESS FACTORS FOR BIOSIMILAR UPTAKES IN ASIA
On-site & in-house training
Deliver this course how you want, where you want, when you want – and save up to 40%! 8+ employees seeking training on the same topic?
Talk to us about an on-site/in-house & customised solution.