overview
Key Learning Outcomes
Understanding of the 5-step model of recognising revenue under IFRS 15
Accounting for Leasing and Sale-Leaseback Transactions
Understand the new leasing standard and what is changing
Other amendments Relevant to the Shipping Industry – who will be affected? Effects of the changes? Determining values? Exemptions and more
Recognizing and implementing Revenue and Costs under the new standard
Overview of the IFRS 9, the new financial instruments standard and how it impacts shipping?
Hedge accounting in shipping industry
Assessment of costs that can be capitalised
Shipping Asset Depreciation and Residual Value
Impairment of Non-Financial Assets
Group Accounts Consolidation and Joint Arrangements
Who Should Attend
This course is intended for all professionals serving in accounting or financial functions across the shipping and offshore sectors and is involved preparing and interpreting consolidated financial statements. Job functions include:
Accountants
Budget Analysts
Accounting Manager
Auditors
Finance Analysts, Managers & Directors
Chief Financial Officers
Financial/Cost Controllers
Investment Analysts
Consultants and Advisors
What past participants have said about our Maritime Courses:
"Focused on shipping industries, practical examples and demonstration of detailed accounting entries"
~ Uni-Asia Holdings
"Very interactive, objective and informed"
~ Thoresen & Co (Bangkok) Ltd
"Relevant to shipping industry, networking with shipping counterparts. The lecturer has in-depth view and knowledge in shipping. Made a few friends in accounting areas"
~ K Line Pte Ltd
"Course was informative and plenty of knowledge sharing"
~ Western Shipping Pte Ltd
"The speaker is very good. Content is relevant & may be useful for my job/future tasks. Well organized."
~ Pacific International Lines (HK) Ltd
Course Directors
Chetan Hans
Director – Financial Reporting Advisory Services
Grant Thornton Singapore
Chetan has more than 12 years of experience in servicing large national and multinational clients in the areas of Assurance, Indian GAAP, US GAAP and IFRS technical accounting advisory, specifically in the areas of financial instruments, leases, consolidation, revenue recognition and business combinations.
Chetan has extensive international experience on advising clients on IFRS and US GAAP in India, United Kingdom and United States. Chetan has expertise in:
Advising on technical accounting under IFRS and US GAAP;
Conduct IFRS and technical accounting trainings for finance teams of clients and workshops on IFRS in Singapore, India and Nepal;
Experience of various technical topics like leasing, revenue recognition, embedded derivatives, consolidation, joint ventures, service concession arrangements;
Diverse industry and international experience including working with and within teams from India, United States, United Kingdom, Middle East, Romania, Singapore.
Chetan has also worked with Accounting Advisory team of another large global accounting firm's and Technical Accounting Group of a major US based financial institution.
Professional qualifications and memberships
Association of Chartered Certified Accountants (UK)
Chartered Financial Analyst (US)
Com (Hons), University of Delhi
---
Jeff Vibert
Assurance Leader and International Business Centre Director
Grant Thornton Singapore
Jeff has significant experience working with the public and private sectors, through a combination of statutory audit assignments, mergers and acquisitions advice, financial advisory assignments, and the provision of accounting advice.
Jeff has acted as the lead audit partner for numerous multi-national companies and Australian entities with offshore activities.
Jeff is also actively involved in professional development activities as a speaker for organizations including the Institute of Chartered Accountants.
He holds a Bachelor of Commerce degree in Accounting and Finance from the University of Western Australia and is a Fellow of the Institute of Chartered Accountants in Australia.
Professional qualifications and memberships
Bachelor of Commerce (Accounting and Finance) – University of WA
Fellow of Institute of Chartered Accountants in Australia
Member of the Australian Institute of Company Directors
Registered Public Accountant Singapore
Presentations and publications
Jeff is a regular presenter/panellist on technical and other financial issues to professional accounting and director bodies including AICD, CAANZ and ACCA. He also regularly presents at regional and international conferences of Grant Thornton International member firms.
Digital Badge
Upon completion of this training course, participants will earn a digital badge.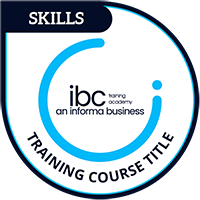 Earners of this badge have acquired advanced-level skills in accounting and financial reporting for shipping industry. They have conducted practical exercises with various reporting standards, including the latest updateds (e.g. IFRS 15, 9, 16). They have also practised with accounting for consolidation, joint arrangement, impairment as well as having practical understanding of tonnage tax clarification
Skills:
ifrs, shipping, accounting, leasing, revenue recognition, impairment, consolidation, joint arrangement, joint venture, shipping pool, capitalisation, property, equipment, drydocking, financial instruments, charter income, tonnage tax clarification, voyage income, contract combinations, contract modifications
Eligibility:
Attend and participate in the 2 full days of training course duration, led by the designated training expert
Available to:
Seminar attendees
Agenda
DAY ONE
REVENUE RECOGNITION
IFRS 15 – overview of the new revenue standard
Understanding of the 5 step model of recognising revenue
Identify the contract(s) with the customer

Contract combinations
Contract modifications

Identify the performance obligations in the contract
Determine the transaction price

Guidance on variable consideration
Existence of significant financing component
Consideration payable to customer

Allocate the transaction price to the performance obligations
Recognise revenue when (or as) each performance obligation is satisfied
Impact on shipping
Charter income
Voyage income
Liquidated damages
Demurrage income
Principal or agent issues
Identifying service components in a revenue contract
Slot exchange arrangements
Onerous contracts
LEASING
Identifying lease contracts
Assessment of operating versus finance lease
Accounting for finance leases
Accounting for operating leases
Impact of renewal / extension options
Impact of contingent charter payments
Impact of residual value guarantees
Accounting for changes in estimates/ circumstances/ agreement after lease inception
Accounting for sale and leaseback transactions
New leasing standard – what's changing from 2019

New definition of Lease
Lessee's Accounting
Lessor's accounting
Sale and Lease back transactions
CONSOLIDATION AND JOINT ARRANGEMENT
Understanding and applying IFRS 10 Consolidated

Concept of de facto control, voting and other rights

Joint arrangements under IFRS 11 Joint Arrangements

Joint operations – parties involved with joint control have rights to the assets and obligations for the liabilities
Joint ventures – parties involved with joint control have rights to the overall assets of the arrangement

Shipping pools

full control over the pool – pool consolidation
Joint operator of the pool – the company's share of revenue, costs, assets and liabilities is recognised

Ship Chartering special purpose vehicles
Accounting for joint arrangements
DAY TWO
FINANCIAL INSTRUMENTS
FRS 109 – overview of the new financial instruments standard

Classification and measurement: financial asset and financial liabilities

Amortised cost
Fair value through profit or loss
Fair value through OCI

Accounting for derivatives
Expected credit loss model

Commodity purchase and supply contracts
Shipbuilding option agreements
Embedded derivatives

Hedge accounting in shipping
Fair value hedge

Cash flow hedge
Accounting for debt modifications
Overview of FRS 32 – Financial instruments: Presentation

Debt vs equity considerations
Compound Financial Instruments
PROPERTY, PLANT & EQUIPMENT
Assessment of costs that can be capitalised
Pre-delivery instalments
Borrowing costs

Timing of capitalisation
Eligible borrowing costs
General borrowing costs

Vessel government grant accounting
Repairs and maintenance
Cost allocation and componentization when a vessel is purchased
Depreciation

Useful life
Residual value
Depreciation method
IMPAIRMENT
Determination of CGUs
Assessment of impairment indicators

Global economic downturn and market slump
Slowing demand for shipping services
Depressed charter rates
Low new build prices or ship resale prices
Ships and vessels lay up
Abnormally high scrapping fees
Significant physical damage to the vessel
Operating losses

Determination of FVLCTS
Determination of VIU

Differences between fair value and value in use

Reversal of past impairments
Part-completed new builds
Disclosure under IAS 36
TAXATION
Tonnage tax classification
On-site & in-house training
Deliver this course how you want, where you want, when you want – and save up to 40%! 8+ employees seeking training on the same topic?
Talk to us about an on-site/in-house & customised solution.